Everything You Need to Know About Luxury Business Transportation Services in Houston
Discover everything you need to know about luxury business transportation services in Houston, including corporate limousines.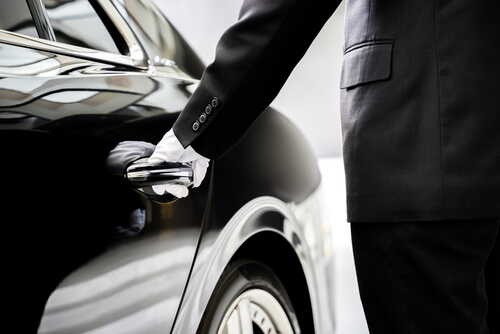 The world of business thrives on hustle, punctuality, and finesse. These attributes form the backbone of corporate transportation services, particularly in a bustling metropolis like Houston. Whether facilitating essential business meetings or ensuring seamless travel to conferences or summits, the importance of luxury transport services cannot be overstated.
Luxury business transportation is a dynamic intersection of comfort, style, and convenience, all attuned to the rhythm of the corporate world. In this busy cityscape, transportation for business is not just about getting from point A to B; it's about providing an environment that allows productivity, discussion, and relaxation to unfold in harmony, even in transit.
This article delves into corporate transportation services in Houston, spotlighting the nuances of luxury transport, executive car services, and their escalating relevance in today's business environment.
What is Business Luxury Transportation?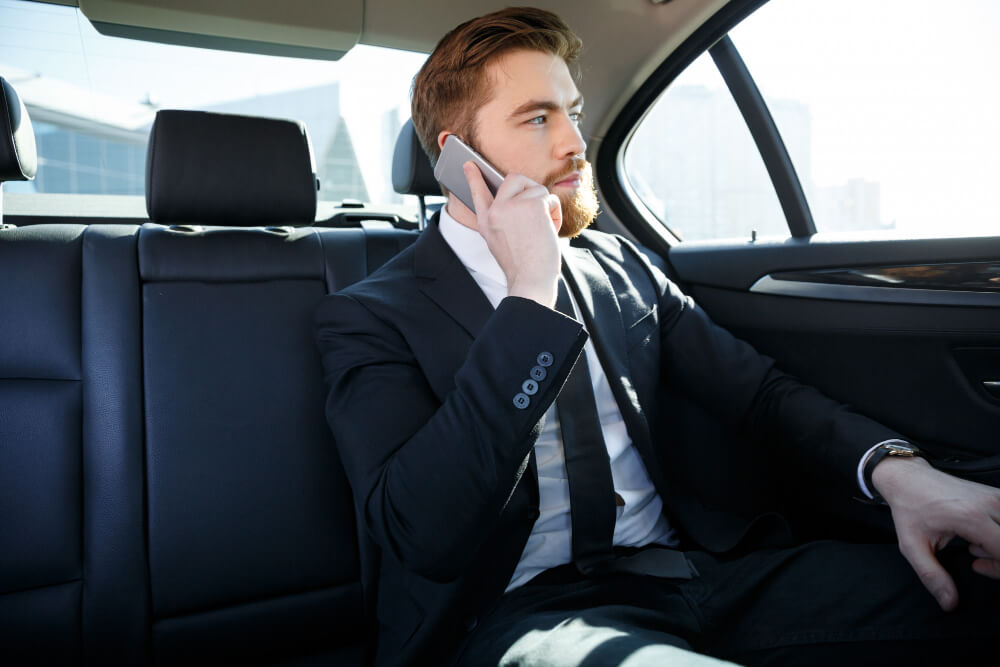 In a world where every minute counts, 'corporate transportation services' have evolved beyond mere logistics. They represent a sophisticated blend of luxury transport and executive transport services designed to cater to the unique demands of the business sector.
Corporate transportation services, including corporate limousine or executive car service, offer more than just a ride - they provide a premium experience, fostering a conducive environment for business discussions or much-needed downtime between busy schedules. Luxury transport goes further, incorporating comfort, privacy, and top-notch amenities, transforming the commute into an enriching experience.
Moreover, such services are about more than just individual travel. Corporate transportation solutions ensure seamless group travel logistics, whether for a business meeting, a high-stakes conference, or a grand business summit. They form an integral part of event management, ensuring punctuality and coordination, which are vital for the success of any corporate event.
The relevance of luxury transportation for business purposes has only grown in recent years. With the burgeoning demands of the corporate world, private transportation services, such as private cars or executive transportation services, have become indispensable. They symbolize a commitment to professionalism, punctuality, and all parties' well-being - elements that contribute to building a robust and successful business foundation.
In the following sections, we'll explore why luxury business transportation is more than mere convenience; it's a strategic advantage in the competitive corporate landscape.
8 Occasions Businesses Use Business Transportation Services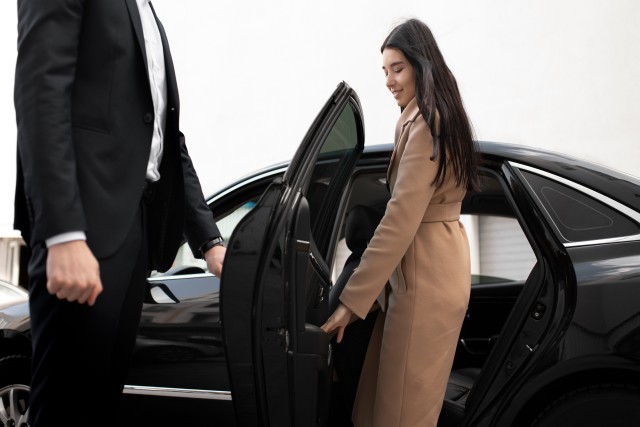 Luxury business transportation services add a touch of class and sophistication to various corporate scenarios. Below are eight occasions when you might require these high-end services:
Welcoming a VIP:

When an important client or business partner is visiting from outside the city, an executive car service can ensure their journey from the airport or station to their hotel or office is comfortable and luxurious. This not only sets a professional tone but also makes a lasting impression.

Attending a Meeting or Conference:

Whether you or a senior employee attending an important meeting, conference, or business summit, corporate transportation services provide a hassle-free, punctual, and comfortable commute. It allows preparation en route, arriving refreshed and ready for business.

Hosting a Recognition Event:

When organizing a ceremony to celebrate achievements or distribute awards, corporate limousine services or luxury transportation can add to the grandeur of the occasion. It provides a premium experience for your distinguished guests and awardees.

Celebrating a Business Milestone:

Completing a significant agreement or partnership calls for a celebration. A corporate transportation solution eases logistical concerns and contributes to the event's success by ensuring all attendees arrive on time and in style.

Organizing a Roadshow:

Corporate transportation services provide reliable transport for your team and equipment, ensuring a seamless event experience when marketing your products or services through a roadshow.

Attending a Social Event:

Whether attending a wedding or another social function, a private car service lets you travel in comfort and style. It ensures punctual arrival and departure, allowing you to focus on networking and enjoying the event.

Business Dinner:

Corporate dinners are often high-stakes events where impressions matter. Arriving in a luxury vehicle sets a professional tone and showcases your attention to detail and commitment to quality.

Airport Transfers: Whether it's you or a senior employee, having a dependable executive transportation service for airport transfers ensures timely arrivals or departures. It takes the stress out of travel, providing a luxurious, quiet space to work or relax between flights.
In conclusion, business transportation services go beyond mere conveyance; they enhance experiences, streamline logistics, and reflect a company's commitment to excellence, comfort, and punctuality. Whether for everyday commutes or special occasions, they've become integral to the modern business landscape.
13 Benefits of Luxury Transportation Services for Business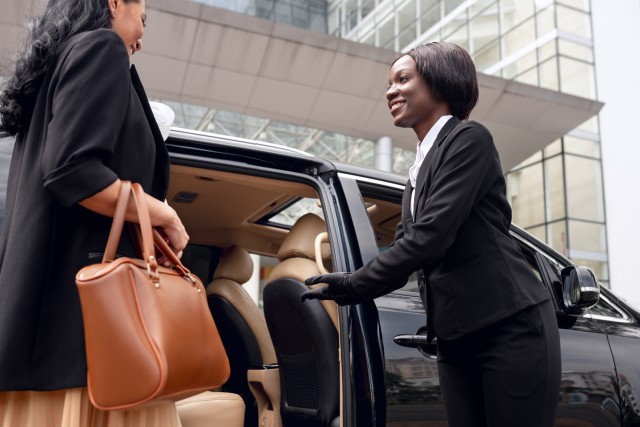 In the corporate world, luxury transportation services offer many advantages beyond commuting. With keywords such as 'corporate transportation services,' 'corporate ground transportation,' and 'car transport Houston' becoming increasingly common, it's clear that more businesses are leveraging these services for their numerous benefits.
Let's explore some of the key benefits that luxury business transportation services, including Houston transportation services and personal chauffeur service, can bring to your business:
1. Professionalism
Availing of professional transportation services sends a clear message: you value professionalism and quality. Whether it's impeccably dressed chauffeurs, pristine vehicles, or overall punctuality, the professionalism exuded by these services can significantly impact your business reputation. A professional chauffeur service, for instance, can seamlessly handle the nuances of travel, allowing you to focus solely on your business tasks.
2. Travel Stylish with Special Rides for a Good First Impression
They say first impressions last, and what better way to leave a positive impression than by arriving in style? Luxury transport services provide high-end vehicles that reflect prestige and class. This can greatly contribute to bolstering your professional image and establishing your brand in the eyes of clients or partners.
3. Promptness and Punctuality
In business, time is money, and punctual service is a critical part of any corporate transportation service. These services prioritize timely arrivals and departures, ensuring you're always on time for that all-important meeting or event. This commitment to 'on-time transportation' can significantly reduce travel-related stress, enhancing your overall productivity.
4. Convenience
Amidst the hustle of corporate life, convenience transportation can make life significantly easier. Be it the ease of booking, door-to-door service, or in-transit amenities, luxury transportation services are designed to provide the utmost comfort and convenience. Whether you need a quiet space to prepare for a meeting or unwind after a long day, these services cater to your every need.
5. Safe and Sanitary
Luxury transportation services are increasingly aware of health and safety and adhere to stringent safety and sanitation standards. Regular vehicle cleaning, adherence to traffic rules, and professional drivers all contribute to a safer commute. These 'safety transportation services' place a premium on passenger safety, providing peace of mind alongside a luxurious travel experience.
6. Reliability
When it comes to corporate transportation, reliability is paramount. Reliable auto transport guarantees you'll always reach your destination on time. No more worrying about missed flights or delayed meetings because of unreliable transportation. You can trust these reliable transportation services to plan the best routes, monitor traffic, and ensure punctual arrivals, thereby keeping your business activities on track.
7. Efficiency Transportation
Luxury corporate services offer efficient transportation, enhancing not just your journey but also the use of your travel time. A skilled private chauffeur can adeptly manage traffic, providing extra time for meeting preparations, crucial calls, or relaxation. This effective time management, courtesy of your corporate chauffeur, can considerably elevate your productivity.
8. Affordability
Contrary to popular belief, luxury car rentals for business travel can be more economical than the regular use of public transport or taxis. A private car service offers a luxurious ride with a Professional Experienced Chauffeur at a long-term affordable rate. You're not just covering transport costs, but investing in a service that prioritizes your comfort and needs, guaranteeing a seamless, stress-free journey.
9. Comfort
Lastly, the comfort provided by luxury transportation services is a significant perk. These services allow you to unwind in the lavish interiors of high-end vehicles, enhancing your comfort ride transportation. Regardless of whether you're heading to a crucial meeting or returning from an extensive business trip, this comfortable transportation can greatly improve your travel experience.
Considering these aspects, it's evident that luxury business transportation services provide more than just a ride from point A to B. They offer a dependable, efficient, cost-effective, and comfortable transportation solution, redefining business commuting. Be it a corporate executive, a busy professional, or an entrepreneur, investing in luxury transportation services is a wise strategic move.
10. Stress Reduction & Peace of Mind
Imagine this - you're heading to a crucial business meeting. The traffic is hectic, and you're worried about arriving late. With stress free professional transportation services, such stressful situations are a thing of the past. A competent driver navigates the city streets, and you're free to focus on your upcoming meeting.
This stress free transportation doesn't just mean reaching your destination on time—it also means arriving with a clear, focused mind, ready to make decisions and achieve goals. It's not just about getting from point A to B, but also about stress reduction. This instant stress relief that comes with knowing your commute is handled professionally is invaluable in today's fast-paced world.
11. Company Morale Boost
Employee morale is an important factor that affects the overall performance of a company. Providing luxury transportation for your employees for business trips or events, especially company celebrations of achievement, which may include awarding prizes to innovators, can be an employee morale idea. It conveys to your team that their comfort and well-being is appreciated.
This can foster a positive work culture, improve job satisfaction, and ultimately, drive your company toward success. By focusing on employee morale, you're investing in your team's happiness, which can lead to increased productivity and better results for your business.
12. Luxury Fleet Option
Whether you prefer a plush luxury sedan, roomy luxury SUV, or ample luxury sprinter van, a luxury transportation fleet offers diverse options. These vehicles aren't merely fashionable and comfy—they're fitted with modern amenities for your business needs. The luxury sedans, luxury SUVs, and luxury sprinter vans in our fleet are more than just vehicles - they're mobile offices and relaxation spaces, designed to make your journey as comfortable and productive as possible.
13. Increase Achievements
Last but not least, luxury transportation services can play a vital role in helping you accomplish business goals. By removing stressors associated with travel, employees can concentrate on their work, fostering productivity. Furthermore, the professional image projected by luxury transport can help generate leads and form lucrative business partnerships. Thus, investing in high-quality transportation isn't merely a luxury—it's a strategic move toward achieving greater business success.
To sum up, luxury business transportation services aren't just about providing a ride—they're about offering an unmatched travel experience that caters to your business needs, contributes to your professional image, and ultimately, aids in the achievement of your business goals. So, why wait? Experience the myriad benefits of luxury transportation today!
Reserve Luxury, Private, and Secure Corporate Transportation in the city of Houston Today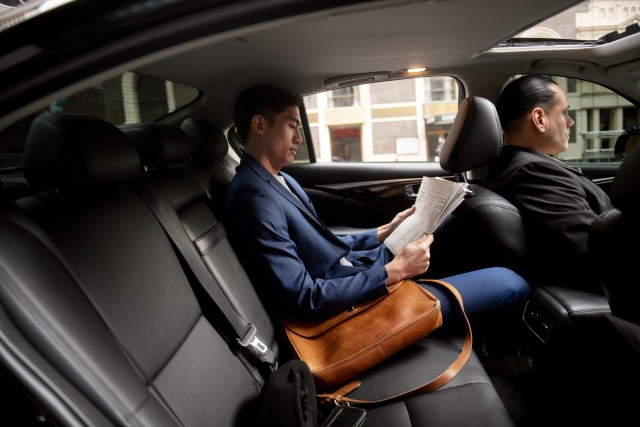 Travel is an integral part of business life, and it can significantly influence the outcome of your business ventures. In a city as bustling and diverse as Houston, it becomes all the more crucial to travel smartly and stylishly. What better way to do so than to reserve a luxurious transportation service, private, and secure corporate transportation services?
Luxury transportation is more than just about commuting in style; it's a complete package that ensures your comfort, privacy, punctuality, and most importantly, safety. With corporate limousine services, your journey can turn into a luxurious experience, an opportunity to make a strong impression, or even a mobile conference room for those last-minute preparation sessions for successful meetings.
When reserving a luxury corporate transportation service in Houston, here's what you should look for:
Fleet variety:

Ensure the service provider offers a broad range of luxurious vehicles, including sedans, SUVs, and limousines, so you can select what best suits your needs. This is one of the key features that sets apart the best limousine companies.

Professional chauffeurs:

Look for companies that employ professional, experienced chauffeurs who can guarantee a smooth and safe ride.

Flexible options:

A good transportation service will offer flexibility, such as hourly limo service Houston, weekly car service, daily chauffeur service, or even the option for a monthly chauffeur service, to accommodate your unique schedule.

Security measures:

Privacy and safety are paramount, especially when you're on business travel. The service should provide secure corporate transport services, ensuring that your travel information remains confidential.

Reliable customer service:

Lastly, make sure your chosen transportation service has a dedicated customer service team that can promptly address any of your concerns or queries.
Corporate transportation services in Houston aren't just about getting from point A to point B. It's about ensuring a productive, comfortable, and secure journey, so you arrive at your destination refreshed, prepared, and ready for success.
Why wait? Give yourself the luxury, comfort, and convenience you deserve. Reserve your private, secure corporate transportation in Houston today, and redefine your business travel experience.
Remember, your journey is a reflection of your business. Make it count. Make it luxurious.
Conclusion and Summary
In today's fast-paced and highly competitive business world, first impressions often make all the difference. Luxury business transportation services, such as those available in Houston, offer a fantastic opportunity to create these impressions. From punctuality and professionalism to convenience and comfort, luxury transport services enhance every aspect of your business travel experience.
Luxury transport goes beyond mere transportation. It encapsulates a realm of experiences that can redefine your business interactions. Its essence lies in providing a seamless, secure, and sophisticated travel experience, allowing you to concentrate solely on your business objectives. Whether it's arriving stylishly for a business meeting, entertaining corporate clients, or ensuring a stress-free journey for your team, luxury business transportation services cater to all your needs with the utmost precision and professionalism.
Among the key benefits that luxury business transportation services bring include professionalism, punctuality, and convenience. But it doesn't stop there; it extends to providing safe and sanitary transport, ensuring reliability, enhancing efficiency, offering affordability, and giving comfort. Luxury transportation services also promote stress reduction, boost company morale, offer a variety of luxury fleet options, and ultimately, help businesses increase their achievements.
Houston, a bustling city with a vibrant business scene, makes the perfect backdrop to experience these services. Reserving luxury, private, and secure corporate transportation in Houston can significantly elevate your business travel, leading to productive meetings, successful business conferences, and goal-oriented business summits.
The time to revolutionize your business transportation approach is now. Give luxury transportation services a try, and let this sophisticated experience reshape the way you and your company engage with the world of business. Every journey you embark on becomes an opportunity to showcase your brand, reinforce your commitment to excellence, and ensure your business engagements always begin on a positive note.
In closing, luxury business transportation services are more than just a necessity; they're a strategic asset in today's corporate world. By opting for luxury, you choose to prioritize professionalism, punctuality, privacy, and above all, luxury, in your business travel. Houston's executive car service, with its fleet of luxury sedans, SUVs, and sprinter vans, stands ready to transform your business journeys into memorable experiences.
LavishRide Black Car Service Provides the best business moving services in Houston. What are you waiting for, book now with us to enjoy the best business transportation services in Houston.
Remember, the quality of your journey matters as much as your destination. So, when it comes to your business travel needs in Houston, choose luxury, choose privacy, and choose security. Try the unparalleled luxury business transportation services that Houston has to offer. After all, you and your business deserve nothing less.