Houston Conventions: Fueling Business Success in the Heart of Texas
Explore Houston conventions, where industries converge and ideas thrive. Discover networking opportunities and innovative discussions in this Houston
Welcome to the bustling city of Houston, where business meets innovation, and success thrives in the heart of Texas. Nestled among towering skyscrapers and pulsating energy, Houston has become a premier venue for conferences, trade shows, meetings & conventions. With its world-class amenities, vibrant cultural scene, and diverse economy, this city has become the heart of entrepreneurial activity and a major catalyst for business growth.
In recent years, Houston has solidified its position as an industry meeting point, attracting professionals from a variety of sectors and creating fertile ground for collaboration and networking. From oil and gas to technology, from healthcare to aerospace, the city has seen a boom in conferences that bring together experts, thought leaders, and aspiring entrepreneurs.
What sets Houston conventions apart from other convention venues is its unrivaled infrastructure and state-of-the-art facilities. The city boasts a remarkable array of convention centers and venues capable of hosting events of all sizes. In addition, conventions in Houston are not only a gathering of like-minded professionals; they're about sparking ideas, building partnerships, and driving business success. Whether you're a seasoned entrepreneur looking to expand your network or a newcomer looking to make your mark in the industry, the Houston conventions offer an unparalleled platform for networking, learning, and growth.
If you are searching for Houston seminars and conferences centers to plan your meetings Houston, join us in exploring Venues for Meetings & Conventions in Houston, the Benefits of Hosting a company meeting in Houston or Convention in Houston, and finding the best professional business transportation services in Houston. So, discover the secrets of its thriving convention scene and get ready to open the door to endless possibilities in the heart of Texas.
The Appeal of Hosting Meetings & Conventions in Houston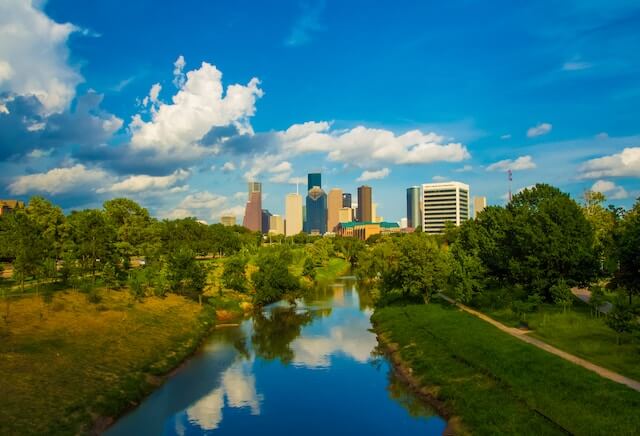 When it comes to hosting meetings and conventions, Houston stands out as the top destination. The city's convention center offers many benefits that make it the perfect choice for your events in Houston today. Let's take a look at eight good reasons why the Houston Conventions Area should be at the top of your list:
Impressive Convention Center Facilities:
With a staggering 1.8 million square feet of meeting, exhibit, and registration space, the George R. Brown Convention Center is one of the ten largest convention centers in the United States. This expansive venue can accommodate 99 percent of all show types, making it incredibly versatile and suitable for a wide variety of Houston meeting planning. There are also many other large convention centers in Houston that we will discuss in detail below.
The abundance of conventions hotels:
The Houston Conventions Center boasts a variety of convention hotels to cater to the needs of visitors. Currently, the 1,200-room Hilton Americas-Houston serves as a great option, offering more than 90,000 square feet of meeting space. In addition, the 1,000-room Marriott Marquis Houston Hotel l offers more than 100,000 square feet of meeting space, including the largest ballroom in Houston.
Convenient accommodation:
The dual-brand Hampton Inn/Homewood Suites have 300 rooms directly across from the Marriott Marquis. It offers convenient and comfortable accommodations for participants just a few steps from the convention center.
Enchanting Discovery Green:
Located next to the convention center, Discovery Green adds a touch of natural beauty and relaxation to the conventions in Houston Texas. This 12-acre city park features two restaurants, a children's playground, an artificial lake, two dog trails, a multi-purpose amphitheater, and an event lawn. It serves as a refuge among the bustle of the city, providing visitors with a refreshing atmosphere for relaxation and leisure.
Proximity to sports and entertainment facilities:
The Convention Center is in close proximity to three major sports and convention centers: BBVA Compass Stadium, Minute Maid Park, and Toyota Center. Visitors can easily access these venues for exciting sporting events and additional entertainment, enhancing the overall convention experience.
Vibrant shopping and entertainment centers:
A short distance from the convention center, visitors can explore the lively GreenStreet shopping and entertainment center. This vibrant location offers a variety of dining, shopping, and entertainment options, ensuring visitors have plenty of opportunities to relax and explore. In addition, the largest entertainment complex in Texas, Bayou Place, is located nearby, further expanding the range of entertainment.
Theater District Houston:
Situated just a stone's throw away from the Convention District, the Houston Theater District is a cultural haven. Spread across 17 blocks, this area attracts visitors with performances by renowned organizations such as the Houston Ballet, Alley Theater, Houston Grand Opera, and Houston Symphony. Attendees can enjoy world-class performances, enriching their convention experience with artistic brilliance.
Efficient transport system:
Houston's METRORail and private transportation connect the Convention District to various parts of the city, allowing visitors to conveniently navigate and explore Houston's offerings beyond the immediate area. This efficient transportation system provides easy access to attractions, restaurants, and entertainment venues throughout the city.
Exploring meeting and conference venues in Houston
Let's delve into three great Houston convention venues that exemplify Houston's commitment to excellence:
Spread over 350 acres, NRG Park is Houston's premier convention, trade show, sports, and entertainment venue. This sprawling facility includes the NRG Stadium, NRG Center, NRG Arena, and the iconic NRG Astrodome. With over 2 million square feet of clean exhibition and conference space, NRG Park can host large-scale events with ease. Its versatility and ample 26,000 parking spaces make it the preferred choice for numerous conferences and trade shows throughout the year. From the prestigious Offshore Technology Conference to the bustling Houston Ballet Nutcracker Market, NRG Park Houston hosts a variety of events catering to a variety of industries and interests.
George R. Brown Convention Center:
The 1.2 million square foot George Brown Convention Center Houston is one of the ten largest convention centers in the United States. Located in the heart of Houston, this spectacular hall offers not only a huge space for meetings and exhibitions but also the excitement and convenience of its surroundings. Surrounded by the Toyota Center, home of the Rockets, to the south and Minute Maid Park, home of the Astros, to the north, the George R. Brown Convention Center immerses visitors in the city's vibrant sports culture.
In addition, two suspension bridges connect this Houston convention center to the 1,200-room luxury Hilton-Americas hotel, and in the future, the addition will provide direct access to the 1,000-room Marriot Marquis. With these convenient spaces, attendees can seamlessly move from their rooms to the Bush Convention Center, maximizing time and convenience.
Smart financial center in Sugar Land:
Located just 20 miles southwest of Houston, the Smart Financial Center at Sugar Land is a true gem in the Greater Houston area. This state-of-the-art concert hall, situated off U.S. Highway 59, offers a one-of-a-kind indoor live performance experience. The Smart Financial Center, owned by the city of Sugar Land, is a unique venue for conferences, presentations, and performances. It's state-of-the-art amenities and world-class acoustics create an immersive atmosphere that leaves a lasting impression on visitors.
Houston's commitment to providing exceptional locations goes beyond these three examples, with many more options available throughout the city. Houston offers a variety of venues, from small meeting rooms to large convention centers, to suit the unique needs of any event.
Extending Your Reach with Professional Networking at Houston's Most Popular Trade Shows and Conferences
In today's rapidly changing business landscape, networking plays a critical role in expanding professional reach and establishing valuable connections. With its thriving trade shows and conferences, Houston is the perfect platform for professionals to take advantage of meaningful networking opportunities. Let's take an in-depth look at how attending Houston's most popular trade shows and conferences can help you expand your reach and unlock new opportunities:
Access to industry leaders and influencers:
Houston's trade shows and conferences attract industry leaders, influencers, and experts from a variety of sectors. These events serve as a hub where professionals from international business companies come together to share ideas, discuss trends and exchange ideas. By attending these meetings, you gain direct access to key decision-makers and influencers who can significantly influence your career or business endeavors. Engaging in conversations and building relationships with these industry leaders can open doors to collaborations, partnerships, and mentoring opportunities that might not otherwise be available.
One of the main advantages of trade shows and conventions is the opportunity to expand your professional network. These events bring together like-minded people from national and international businesses in Texas, creating a favorable environment for communication and building relationships. Whether it's structured networking sessions, social events, or casual meetings during breaks, you have the opportunity to connect with professionals from different fields and industries. These connections can lead to valuable collaborations, job prospects, referrals, and even lifelong friendships. By actively participating in conversations, exchanging business cards, and making new contacts, you can expand and grow your network by building a support system to help move your career or business forward.
Demonstration of your experience:
Attending trade shows and conferences also allows you to showcase your expertise and establish yourself as a thought leader in your field. Many events offer professionals the opportunity to present their research, share best practices, or deliver keynote speeches. By taking advantage of these platforms, you can position yourself as an authority in your industry and achieve recognition among colleagues and potential employees. By sharing your knowledge and ideas about national or international business and trade, you not only help build your personal brand, but also open doors for future speaking engagements, media coverage, and professional opportunities.
Stay up to date with industry trends:
Trade shows and conferences provide an invaluable opportunity to keep abreast of the latest industry trends, innovations, and market changes. These events often include keynote speeches, panel discussions, and expert-led workshops that offer information about new technologies, changing consumer behavior, and industry disruption. By attending these sessions, you gain a competitive edge by staying one step ahead and understanding where your industry is heading. This knowledge can be used to make informed decisions, identify new business opportunities, and adapt your strategies to stay relevant in a rapidly changing marketplace.
Access to product demos and market information:
Trade shows and conferences often include showrooms where companies showcase their latest products, services, and technologies to national and international trade companies. These exhibitions provide a valuable opportunity to gain first-hand experience and insight into industry innovations. Interaction with exhibitors allows you to learn about new solutions, test products, and collect market information. This knowledge can be helpful in making informed purchasing decisions, identifying potential partnerships or investment opportunities, and understanding the competitive landscape.
Utilizing Resources Available for Planning Events & Conferences at Houston Venues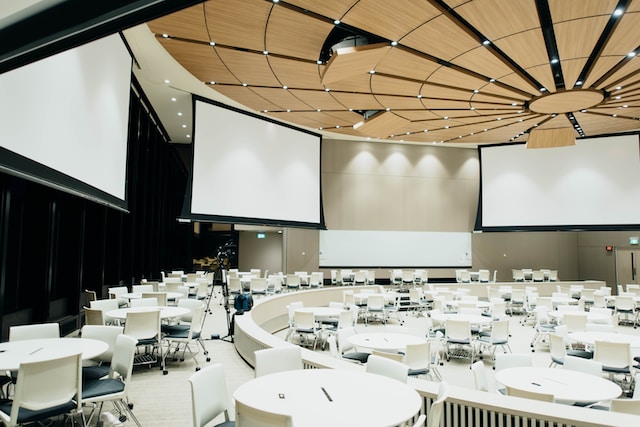 Planning events, meetings and conventions requires careful consideration of various factors to ensure their success. The following are some key factors to consider before finding Houston event spaces:
What to consider when planning a community event?
Choosing the right date and time for an event is critical. Consider factors such as holidays, weekends, and weekdays as these can affect attendance. It is also important to assess the availability of key attendees, speakers, and vendors to avoid scheduling conflicts.
Houston has a subtropical climate characterized by hot and humid summers and mild winters. It is important to take into account the weather conditions on the selected date and time before selecting party venues in Houston TX. Extreme heat or inclement weather can affect visitor comfort and the success of outdoor events. Check historical weather data for specific times of the year and make contingency plans if needed.
Defining and understanding the target audience is essential to successful event planning. Consider the demographics, interests, preferences, and needs of participants. This information will help you decide on the format of the event, its content, marketing strategies, and choice of venue.
Explore other events or community events taking place in Houston on the scheduled date before selecting any event centers in Houston. Avoid scheduling your event during major conflicts or overlapping events that could potentially divide the audience or create logistical issues. Keep an eye on local calendars, event listings, and citywide announcements to minimize conflicts.
It is very important to choose the right event location. Houston offers a wide range of venues suitable for events and conferences of various sizes and purposes. Consider the following factors when choosing a location:
Capacity and layout:

determine the expected number of visitors and choose a place with enough space to accommodate them comfortably. Think about the format of the event and the types of activities so that the layout of the site meets your requirements.

Facilities and Amenities

: Check out the on-site amenities and facilities available, such as audiovisual equipment, Wi-Fi, parking, restrooms, food options, and accessibility features. Make sure Houston TX venues match the needs of your event and audience.

Location availability.

Consider the event venues in Houston's proximity to transport hubs, hotels, airports, and other important amenities. Easy access will increase the convenience of participants and help attract participants from different locations.

Reputation and reviews.

Find out about the institution's reputation by reading testimonials and reviews from previous event planners in Houston. This will give you an idea of the quality of the establishment, customer service, and overall experience.

Cost:

Consider the budget constraints for the event and compare prices across different Houston meeting venues. Make sure the location you choose provides good value for money.
What to consider when planning a community event?
Best Corporate Event Venues in Houston, TX:
Here is a curated list of exceptional corporate event spaces in the area:
The Houston Museum of Natural Science
With an impressive planetarium, an extensive collection of mineral specimens, and an impressive display of life-sized skeletons, this museum offers a breathtaking setting for any corporate event. Choose from a variety of venues in Houston, such as the Burke-Baker Planetarium, Cockrell Butterfly Center, Wortham GIANT Screen Theatre, and four levels of science halls. If you're hosting a small gathering or a large-scale event, the Houston Museum of Natural Science can accommodate anywhere from 20 to 5,000 visitors, providing a unique and unforgettable experience.
Houston Zoo
Experience the animal kingdom at the Houston Zoo, home to a wide variety of creatures both on land and underwater. For a truly memorable Houston event spaces experience, the Houston Zoo offers a range of unique venues for cocktail parties, conferences, business picnics, receptions, and more. The dedicated event professionals at the Houston Zoo will work closely with you to bring your vision to life, providing a truly unforgettable experience for everyone. Invite from 10 to 2500 guests and make your event stunning.
Museum of Fine Arts, Houston
Spanning an impressive 6,000 years of history, the museum's collection includes some 64,000 works from six continents, including remarkable sculptures from the Roman era and famous works by artists such as Gleizes, Memling, and Monet. In addition to its exceptional art collection, the museum offers exquisite event venues in Houston that are the perfect backdrop for any special occasion. From business events and birthdays to anniversaries and cocktail parties, the Museum offers both indoor theaters and outdoor gardens, providing a truly elegant and memorable setting for your event.
Houston Downtown Aquarium
This beautiful ballroom sets the stage for dinner rehearsals, corporate events, mitzvahs, quinceaneras, and many other special occasions. The 6,000-square-foot Nautilus Ballroom, with stunning city skyline views and professional event facilitators, offers a truly remarkable setting. The hall accommodates up to 450 seats or 600 standing guests and can be adapted for both large group presentations and small breakout sessions. Let Houston Downtown Aquarium's award-winning kitchen staff prepare delicious meals and menus that will delight your guests and elevate your event to the next level.
Pinstripes Houston
Pinstripes Houston is a versatile venue that combines the excitement of bowling and bocce with elegant event venue space in Houston. The establishment has beautifully appointed spaces for parties and events, as well as a first-class Italian-American cafe and wine cellar. In addition to bowling alleys and bocce courts, there are outdoor patios with cozy fire pits that will give you a lot of fun. The contemporary ballrooms and private function rooms at Pinstripes Houston are perfect for birthday parties, business conferences, and more.
Bisong Art Gallery
Bisong Art Gallery is a dynamic hub that showcases talented artists and serves as a creative meeting space. This unique gallery is also an exceptional venue for local events in Houston. If you're planning a corporate party, cocktail party, reception, team building party, book signing, or political event, the 1,300-square-foot Gallery Loft, with its bare brick walls and concrete floor, makes for the perfect artistic backdrop.
Houston Botanic Garden
Spanning 132 acres, this botanical oasis offers many exhibits and scenic walking trails. In addition to being an educational resource for plant lovers and conservationists, the garden promotes intercultural understanding among Houston's diverse population. It plays a vital role in the city's collection of tourist attractions, providing visitors with a serene and immersive experience. With this event space rental in Houston, you make a direct contribution to the garden's mission of enriching life through research, education, and conservation of plants and the environment.
Brennan's of Houston
Founded in 1967 as a sister restaurant to New Orleans' famed Commander's Palace, Brennan's of Houston has become the city's top choice for fine dining with authentic Southern hospitality. Offering both a la carte and private dining, Brennan's ensures that you and your guests enjoy an unforgettable and stress-free experience. The dedicated team at this location strives to provide the highest quality service, helping you create unforgettable memories of important moments such as signing business contracts, launching new products, offering business opportunities in Houston, and celebrating important anniversaries.
House of Blues Houston
With luxurious surroundings, delicious cuisine, and world-class service, House of Blues Houston is the perfect place for your next business meeting, private performance, social event, or private dinner. This exceptional venue, located just four blocks from the George R. Brown Convention Center, can accommodate between 25 and 2,500 attendees. House of Blues Houston's skilled team will take care of every aspect of your event, ensuring your event runs smoothly.
Shula's Steak House
Treat yourself to the best steaks Houston has to offer at Shula's Steak House. Whether it's an intimate corporate meeting or a grand event, this place is perfect for any occasion. With a spacious private dining area accommodating up to 100 guests or 60 seated and a smaller area accommodating up to 25 guests or 18 diners at a table, Shula's is well equipped with audio-visual technology for meetings, social gatherings, and birthday parties.
Bayou Music Center
Prepare to be amazed at the Bayou Music Center, a truly unique 27,138-square-foot facility. This venue in Houston offers access to the world's greatest musical talents, a full range of event management services, state-of-the-art lighting and sound, and a carefully curated selection of food and cocktails. From the spacious music hall to the cozy lobby and VIP room, the Bayou Music Center is ideal for afternoon gatherings, cocktail receptions, and pre-show celebrations. Moreover, it is conveniently located next to the George R. Brown Convention Center and can accommodate between 200 and 3,000 guests.
Georgia James – Sky
For unforgettable private parties, look no further than Georgia James - Skye. Accommodating up to 40 guests, the Sky event space at Georgia James offers an elegant ambiance with artwork, wood paneling, and textured concrete floors. It can be turned into an exclusive area with large glass doors and a movable curtain wall. Whether it's a cozy dinner party or a special meeting, Sky is the perfect place. Choose from banquet chairs, theater chairs, or long tables to suit your needs.
Petroleum Club of Houston
Set against the backdrop of Houston's mesmerizing cityscape, the Petroleum Club of Houston is a symbol of unrivaled elegance and sophistication. Treat your guests to an evening of eternal memories and breathtaking views from the 35th floor. The restaurant team will help you create a unique menu tailored to your reception or corporate event. With a capacity of 50 to 250 visitors, this place will suit you.
The Astorian
Houston's own gem, The Astorian, is a 14,000-square-foot, chic industrial event venue. Step into a historic site that will enchant your guests with its grandeur. Ideal for fundraisers, weddings, parties, concerts, business celebrations, and holiday reunions, Astorian offers luxurious décor and impeccable service.
Julia Ideson Library
Host an unforgettable and unique event at the historic Julia Ideson Building, part of the Houston Public Library. This architectural marvel stands out for its striking Spanish design among the glass and steel of modern skyscrapers. Step inside and be transported to another version of Houston. Feel the refined grandeur of the building as you walk across the mirrored Spanish brick floor, up the grand staircase, and stroll through the Tudor Gallery with its majestic marble columns. The hall's dedicated team strives to bring your event vision to life.
McGovern Centennial Gardens
Located in Houston's vibrant museum district, McGovern Centennial Gardens offers a host of event opportunities. The Cherie Flores Garden Pavilion and Celebration Garden are available exclusively for your use. The celebration garden, surrounded by tall hedges, creates a charming setting for private events Houston. With the option of a canopy in the garden, you can host up to 300 guests for a seated ceremony or 250 for a dinner or reception under the stars.
Lott Hall
Lott Hall, formerly known as the Historic Clubhouse, has been extensively renovated to become an exciting event venue. Built in 1933, this historic gem can now accommodate up to 300 guests at a cocktail reception or 150 guests at tables. Lott Hall features a brand-new porch, food prep area, restrooms, dedicated bridal party space, and dedicated vendor sections. Feel the elegance and charm of this beautifully restored place.
Jumper Maybach Fine Art
This stylish space is perfect for intimate gatherings that inspire the imagination. The 880-square-foot Jumper Maybach Fine Art Boutique can accommodate 10 to 80 patrons. The hall displays many modern works of art, many of which were created by the owner himself. The elegant modern design and unique artwork will impress your guests. They can be mixed with a drink, surrounded by captivating and whimsical masterpieces.
Benefits of Hosting a Meeting or Convention in Houston that Can Enhance Business Growth
Hosting a Houston conference or meeting can bring numerous benefits that can greatly accelerate business growth. Here are some key benefits:
Houston is home to a wide variety of industries, including energy, healthcare, aerospace, manufacturing, and more. Hosting a meeting or conference in such a vibrant business environment provides opportunities for networking, collaboration, and knowledge sharing across industries, facilitating innovation and potential partnerships.
As the fourth largest city in the United States, Houston has a strong economy with a strong business ecosystem. Hosting your event in Houston allows you to harness this economic power, connect with local businesses, and explore potential markets and investment opportunities.
Houston offers a wide range of state-of-the-art convention centers, hotels, and event venues. These venues provide the necessary infrastructure and support services to ensure a smooth and successful event. With state-of-the-art equipment, cutting-edge technology, and professional event staff, you can create an impressive and memorable experience for attendees in your Houston business events.
Houston is home to leading educational and research institutions, making it a hub of knowledge in a variety of fields. By hosting your event in Houston, you can capitalize on this intellectual capital, invite expert speakers and access the latest information and trends in your industry. Such knowledge sharing can contribute to professional development and drive business growth.
The cultural diversity and vibrant mix of communities create a dynamic and inclusive environment that promotes creativity, intercultural understanding and global perspectives, and many business opportunities in Houston. Hosting an event in Houston will allow you to embrace this diversity, expand your network of contacts, and gain a competitive edge in a multicultural marketplace.
Favorable Business Environment:
Houston has a reputation for being a business-friendly city with a favorable tax environment and policies that support entrepreneurs and corporations. This favorable business climate can attract investors, stimulate business expansion, and create opportunities for collaboration and growth.
Professional business transportation services in Houston
When it comes to professional business Houston transportation services, Lavish Ride stands out as the best choice. Offering multiple benefits and providing a hassle-free experience, Lavish Ride is tailored to suit every need and desire.
At Lavish Ride, privacy and safety in transportation are paramount. Whether you are going to important meetings or corporate events, you can be sure that your privacy will be respected. Lavish Ride's professional drivers are careful to ensure your privacy during your journey.
Time is of the essence in the business world, and Lavish Ride understands the importance of punctuality. Their expert drivers are well-versed in Houston's traffic and ensure you arrive at your destination on time every time. With Lavish Ride, you can rely on their commitment to fast, reliable, and punctual service.
Your safety in transportation is of the utmost importance, and Lavish Ride takes every measure to ensure it. Their fleet of luxury cars is meticulously maintained and equipped with the latest safety features. In addition, their drivers are thoroughly trained and have extensive knowledge of Houston's roads, making your safety a top priority throughout your journey.
Their fleet includes a wide range of high-end vehicles, including Luxury SUVs, executive sedans, Executive Vans, Limo Services, and luxury sprinter van, ensuring you can choose the perfect vehicle for your specific needs and preferences. Whether you want an elegant and sophisticated ride or a spacious and comfortable ride, Lavish Ride is the epitome of luxury transportation.
Navigating the busy streets of Houston and dealing with traffic can be stressful, especially when you have important business matters. With Lavish Ride, you can comfortably enjoy stress free transportation. Sit back, relax, and enjoy a smooth and comfortable ride while their expert drivers handle the logistics, allowing you to focus on what really matters.
Variety of Vehicle Choices:
Lavish Ride offers a wide range of vehicles to suit every need and desire. From executive sedans for solo travelers to spacious luxury SUVs for small groups and even luxury limousines for VIP events, Lavish Ride ensures you have the perfect vehicle for your specific requirements.
In conclusion, when looking for professional transportation services for businesses in Houston, Lavish Ride sets the standard for its commitment to privacy, punctuality, safety, luxury, stress reduction, and an extensive fleet offering a wide range of vehicles. With Lavish Ride, you can enhance your business travel experience by leaving a lasting impression and ensuring a seamless journey from start to finish.