Discover Things To Do in Austin: Top Attractions, Restaurants, Shopping, and Transportation
Things To Do in Austin, Discover the best attractions, restaurants, shopping, and transportation options in Austin for an experience of things to do.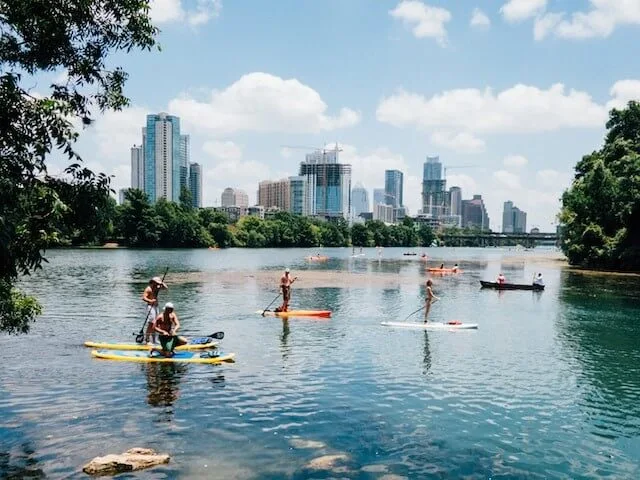 As the lively capital of Texas, Austin offers visitors endless entertainment and an incredible variety of things to do. From live music concerts and outdoor adventures to culinary delights and cultural attractions, Austin has something for everyone. That's why over 30 million visitors flock to the city each year, making tourism a pillar of the local economy.
Known globally as the "Live Music Capital of the World," Austin lives up to its reputation with live tunes playing every night in bars, clubs, dance halls, venues, and even parks across the city. It's an essential destination for music lovers. Beyond the concerts, theater performances, comedy shows, films, and more provide nonstop entertainment.
Outdoor enthusiasts will find plenty of Austin places to visit and things to do, too. The hike and bike trails around Lady Bird Lake offer access to kayaking, paddle boarding, and other watersports right downtown. Just a short drive away, swimming holes, rafting along the Colorado River, and hiking in the Hill Country provide chances to enjoy Austin's natural splendor.
Cultural attractions like the Blanton Museum of Art, the LBJ Presidential Library, and the Bullock Texas State History Museum give visitors a deep dive into history and the arts. Austin's food scene tantalizes taste buds with mouthwatering barbecue, Tex-Mex favorites, globally inspired cuisine, and gourmet food trucks on every block.
Let us show you how to experience Austin like an insider! Our handy guide makes planning your Austin getaway a breeze.
22 Things to Do and Places to Visit in Austin
With endless things to do in Austin, narrowing down the list can be tough. From outdoor activities to cultural sights and entertainment venues to culinary hotspots, there are hundreds of incredible things to do across the capital city.
To help simplify your planning, we've compiled the absolute top things to do in Austin - the essential places to visit that give you a quintessential Austin experience. Our list includes top-rated attractions, local favorites, and uniquely Austin experiences for first-time visitors and longtime residents alike.
We'll cover the best things to do in Austin by category, like outdoor adventures, nightlife, museums, and more.
1. Enter the Absurdity of The Eureka Room
An imaginatively surreal experience, the Eureka Room in Austin transports you to a world of mystery and intrigue as you puzzle your way through its interactive exhibits and immersive design. This popular Eureka Room Austin adventure offers absurdist fun for all ages that feels like stepping through the looking glass. You'll never view reality the same again after the warp and wonder of the Eureka House.
2. Fire a Fully Automatic Uzi at The Range at Austin
Feel the rush of firing a machine gun at The Range at Austin, the premier indoor gun ranges in the area. Under close supervision, you can shoot a fully automatic Uzi 9mm in their state-of-the-art shooting range and experience the adrenaline thrill safely. With knowledgeable staff providing hands-on training, it's an exciting opportunity for beginners and seasoned marksmen alike to enjoy target shooting with military-grade firearms. This unique Austin shooting range offers the thrill of shooting a real machine gun in a controlled environment.
3. Challenge Yourself at Lake Travis Waterloo Adventures
From ziplines to ropes courses, Lake Travis Waterloo Adventures offers heart-pounding thrills with stunning hill-country views. Get your adrenaline fix with Austin's top Lake Travis zipline course, climb the challenging ropes course, and cool off at the refreshing Lake Travis water park when you're done defying gravity. It's an unforgettable Lake Travis adventure.
4. Tour Some of Austin's Legendary Breweries
With a booming craft beer scene, Austin lays claim to over 50 breweries crafting innovative craft beer. Beer lovers can tour favorites like Austin Beerworks, Live Oak and Hops & Grain to go behind the scenes and sample their signature Austin breweries' brews straight from the source. It's the best breweries in Austin tour, perfect for tapping into the local flavor.
5. Take a Dip in Barton Springs Pool
On sweltering Austin days, there's no better respite than taking a refreshing dip in Barton Springs. The massive spring-fed pool stays a brisk 68°F year round and provides the ideal place to swim, sunbathe, and cool off from the summer heat. Set amid lush greenery in Zilker Park, Barton Springs pool is an iconic Austin treasure and one of the city's most beloved Barton Springs.
6. Take Down the Cartel in Paniq Room
Embark on an exhilarating adventure at Paniq Room, voted one of the best escape room Austin. This challenging experience places you right in the middle of taking down a cartel's operation. Work together to crack codes, solve puzzles, and escape the room in 60 minutes before time runs out. With an elaborate set and movie-quality storyline, the Austin panic room experience at Paniq Room makes you the hero in your action thriller.
7. Taste and Tour Texas Hill Country Distilleries
With award-winning whiskey, moonshine, vodka, and more, the Texas Hill Country lays claim to some of the best distilleries in Texas. Many Austin distillery tours will shuttle you between tasting rooms to sample signature spirits straight from the source. Sip and savor at Hill Country gems like Garrison Brothers Bourbon, Still Austin Whiskey Co., and Treaty Oak Distilling to taste the best distilleries in Austin.
8. Zip Over Land and Lake with Lake Travis Zip Lines
Get your adrenaline pumping as you soar over the scenic Hill Country on an exhilarating Lake Travis zipline tour. Several companies like ZipLine Lake Travis offer heart-pounding zipline Austin courses that zip across canyons, over lakes, and through the tree canopy surrounding Lake Travis. With lines starting as high as 300 feet, it's a thrilling way to admire those Hill Country views while enjoying an adrenaline rush on the zip line tours.
9. Explore the Longhorn Caverns
Go underground at the magnificent Longhorn Caverns near Austin, formed by an ancient underground river. Guided tours lead you through cathedral-like chambers adorned with stalactites, stalagmites, and otherworldly rock formations inside this natural wonder. Ranked a top Texas state park, Longhorn Cavern State Park lets you marvel at the unique geology and experience the pitch-blackness of this fascinating Longhorn cavern.
10. Indulge in Elegance with the Posh Picnic
Surprise someone special with an indulgent picnic date curated by The Posh Picnic in Austin. They handle all the details from decor to gourmet food, allowing you to relax and enjoy a bespoke, elegant picnic experience. With romantic settings like flower-filled fields or sunset lake views, it's an ideal date picnic or way to create a romantic picnic filled with delicious bites and treasured memories.
11. Marvel at the Umlauf Sculpture Garden
Admire contemporary sculptures scattered throughout the lush gardens at the tranquil Umlauf Sculpture Garden. Rotating exhibits join the permanent collection of works by American sculptor Charles Umlauf at this urban oasis that's also one of the top Austin museums. Stroll through the grounds and ponder the artistry of the sculptures integrated with the natural sculpture park surroundings.
12. The State Capitol and Visitors Center
Explore Texas political history and admire stunning 1888 architecture on a tour of the State Capitol in downtown Austin. Knowledgeable guides provide insight into the government, art, and architecture on tours of the iconic building, while the Capitol Visitors Center and Museum teaches through interactive exhibits. A stroll through the immense grounds reveals statues honoring notable Texans surrounding the grand capitol building.
13. Lady Bird Lake
This scenic reservoir on the Colorado River flowing through downtown Austin offers endless recreation. Paddleboard, kayak, or sail on Lady Bird Lake, stroll the hike and bike trail, relax in the parks along the shore, or rent a swan-shaped pedal boat for on-the-water fun. The Ann and Roy Butler Hike and Bike Trail, extending 10 miles around the lake, makes it easy to enjoy the natural oasis in the heart of the city.
14. Lyndon Baines Johnson Library and Museum
Immerse yourself in the life and presidency of native Texan Lyndon Baines Johnson at the fascinating LBJ Presidential Library and Museum. Exhibits like a replica of the Oval Office, a Presidential limo, and fascinating historical items provide insight into his administration's major initiatives. The museum also details LBJ's personal life on his Texas ranch. Through the archives, artifacts, and interactive displays, the LBJ library and museum chronicles a pivotal time in American history.
15. Bullock Texas State History Museum
From prehistoric Native tribes to the present day, the impressive Bullock Texas State History Museum in Austin brings the Lone Star State's epic history to life through high-tech and interactive exhibits. Walk through a forest to see life-size dioramas of mastodons and saber tooth tigers from prehistoric Texas. See artifacts from Spanish colonizers, the Alamo battlefield, and the Republic of Texas era. Don't miss the towering walls depicting pivotal Texas history events and people.
16. See the Bats from Congress Avenue Bridge
An Austin tradition happens nightly from March to November when over 1.5 million Mexican free-tailed bats living under Congress Avenue Bridge emerge en masse at dusk for their nightly insect hunt. Locals and tourists flock to the bridge and nearby bat viewing areas like the Ann Richards Bridge boat ramp to witness this remarkable sight and see these creatures spiral through the colorful sunset sky. It's Austin's beloved, unique natural phenomenon.
The bridge was even known by several names because of this natural phenomenon, such as: austin bats bridge, congress bridge bats, or bat bridge austin.
17. Mexic-Arte Museum
Delve into contemporary Mexican, Latino, and Latin American art and culture at the Mexic Arte Museum in downtown Austin. This dynamic museum and cultural center presents a bold collection of prints, paintings, sculptures, and mixed media works from gifted visual artists across the Americas. Ongoing and special exhibitions highlight both emerging and established Latin American artists through diverse mediums. Don't miss their in-house store stocked with Day of the Dead merchandise and exciting fine art.
18. McKinney Falls State Park
Escape the city without leaving town at beautiful McKinney Falls State Park. Just 12 miles from downtown, it packs in wooded hiking trails, limestone cliffs, the scenic Upper and Lower McKinney Falls, ancient oak trees, a swimming hole, and lakeside campsites. Experience the best of the Texas outdoors, enjoying nature hikes, mountain biking, camping, birding, and swimming during the day, then admiring starry Hill Country skies after dark.
19. Umlauf Sculpture Garden and Museum
Admire contemporary sculptures integrated with nature at the tranquil Umlauf Sculpture Garden & Museum. Works by 20th-century American sculptor Charles Umlauf are displayed inside the indoor galleries, while the outdoor grounds house rotating exhibits nestled within grassy lawns and tree-shaded paths. Enjoy a contemplative stroll while pondering artworks by Tony Cragg, Linda Ridgway, and other prominent sculptors at this urban Austin sculpture garden.
20. Mount Bonnell
Climb 100 steps to the highest point in Austin and be rewarded with panoramic city views at Mount Bonnell ِAustin. This renowned overlook, perched nearly 800 feet above the Colorado River, provides a sweeping perspective of downtown, Lake Austin, the river valley, and the surrounding Hill Country. Bring your camera to capture an iconic Austin vista. The short paved trail to the top makes it easy for families to experience these Instagram-worthy Mount Bonnell views.
21. Tour the Museum of the Weird
Delve into the bizarre and surprising side of Texas history at Austin's famed Museum of the Weird. This quirky attraction lives up to its name, with intriguing oddities on display like a two-headed calf, a phone booth stuffed with people, a mind-boggling illusion room, and alleged relics collected by sideshow performers. Discover crazy stories and legends about the supernatural, conspiracies, chain letters, and more at this uniquely weird Austin museum.
9 best shopping destinations in Austin
With endless shopping options across the city, deciding the best places to shop in Austin can be a challenge. From locally owned boutiques and vintage shops scattered through trendy neighborhoods to massive malls and outlet centers, Austin offers diverse shopping for every style and budget.
This guide zeroes in on the top 10 shopping destinations you must visit for a quintessential Austin retail experience. We cover all the unique local shops, major chain stores, high-end designers, and offbeat boutiques that make Austin a shopper's paradise. Whether you want to explore downtown shopping, seek out boutiques in the SoCo district, or score designer deals, you'll discover remarkable Austin shops and malls worthy of your shopping list.
1. Sunroom
Find boho chic women's clothing, accessories, and home decor at this beloved Sunroom boutique in South Austin. Their curated collection of fashion-forward yet timeless pieces has made Sunroom Austin a local favorite for stylish wearables and lifestyle goods. Browse the light-filled minimalist shop for on-trend dresses, jumpsuits, shoes, and more. Don't miss their in-house plant shop for unique houseplants and terrariums.
2. Feather's Boutique Vintage
This hip South Congress gem offers curated vintage for men and women sourced from around the world. Beyond retro threads, Feathers Vintage Austin sells handmade artisan jewelry from local designers, apothecary goods, and decor like vintage concert posters. They offer regular jewelry trunk shows spotlighting Austin makers like Machete Jewelry. For a true vintage shopping experience, make time to browse Feathers' collection of one-of-a-kind throwback pieces.
3. Barton Creek Square
As Austin's largest indoor mall, spanning 1.4 million square feet, Barton Creek Mall is a retail force with over 130 stores. Find mainstream brands like Apple, Sephora, Lucky, and Pottery Barn alongside department stores Macy's, Nordstrom, JC Penney and Dillards. Fashionistas flock here for elevated offerings from Barton Creek Mall stores like Louis Vuitton, Tiffany's, Coach, and more. With dining, movies, and ample free parking, Barton Creek Square is a shopping staple.
4. STAG Provisions For Men
Dapper gentlemen flock to tasteful STAG Provisions for premium menswear essentials in downtown Austin. Outfit yourself in tailored sports coats, rugged Red Wing boots, and custom-made leather goods from their in-house line of crafted accessories. Alongside casual basics, they carry luxe grooming supplies and leather bags that make perfect gifts. STAG Provisions Austin brings elevated, contemporary style to the city's fashion scene.
5. Waterloo Records & Video
Support Austin's iconic independent record store at Waterloo Records, open since 1982. Music junkies spend hours flipping through over 100,000 new and used CDs, DVDs, and vinyl records covering every genre imaginable. Catch live in-store performances from local and touring acts. Any Austin record stores roundup isn't complete without this South Lamar staple for tunes and music memorabilia.
6. Toy Joy
Find amusement, nostalgia, and novelty at Austin's famous Toy Joy shop on "Keep Austin Weird" Second Street. Browse through three floors overflowing with crazy toys, gag gifts, retro toys, collector's items, and more wacky fun for kids and kids-at-heart at this legendary Toy Joy Austin emporium of oddities.
Since 1994, Toy Joy has been an iconic source of joy, wonder, and whimsy in Austin. Kids can customize their plush creatures, while adults re-live childhood by browsing through Ryan's Room, packed with 80s toys and collectibles. Magic lessons from professional magicians add to the old-school atmosphere at this treasured Toy Joy Austin Texas staple.
7. Charm School Vintage
Revive retro glamour from decades past at elegantly curated Charm School Vintage. Their collection spans 1850-1990s wearables for men and women sourced globally, from Victorian lace dresses to disco jumpsuits. The shop's curators hand-select quality vintage pieces with timeless sophistication and allure.
Beyond vintage, Charm School sells modern designs with a retro twist and hosts regular special events spotlighting local makers. Nestled along South Congress, Charm School Vintage is a quintessential vintage shop for both locals and tourists seeking classically stylish threads and accessories. They offer an authentic vintage immersion into retro fashion from different eras.
8. Luxe Apothetique
Indulge your senses with candles, bath products, jewelry, and stylish accessories at luxe downtown boutique Luxe Apothetique Austin. Shop their selection of scented soy wax Illuminidol candles hand-poured in Austin and Texas-made fine jewelry, alongside continental goods like eye-catching resin Catstudio glasses from Amsterdam.
With its chic, black, and white interior decor, its flagship Luxe Apothetique Austin location provides a sensory delight for shoppers. Their candles make great gifts, while the eclectic mix of jewelry, apothecary items, and housewares tempt you to treat yourself. It's a sleek boutique where quality craftsmanship meets aesthetically pleasing design.
9. Moss Designer Consignment
Find major designer steals at upscale women's consignment boutique Moss in downtown Austin. Score pristine pre-owned Burberry, Chanel, Louis Vuitton, and more at a fraction of retail prices. Beyond luxe labels, they carry chic contemporary brands like Tory Burch and Kate Spade.
Fashionistas flock to Moss to uncover coveted handbags, jewelry, shoes, and apparel from top designers like Chanel and Louis Vuitton. The boutique offers items in like-new condition, allowing you to score pink designer Louis Vuitton shoes or thrift designer clothes at a steal. If you love luxury labels but not luxury prices, visiting Moss is a must.
10 Best Restaurants in Austin
With an exploding food scene, Austin offers an incredible variety of cuisines and restaurants to tantalize every palate. From classic barbecue joints to fine dining institutions, food trucks serving global flavors, to creative vegan fare, the city brings talented chefs and unique eateries to the table.
To highlight Austin's culinary diversity, we've curated the definitive Top 10 restaurants that should be on every foodie's Austin bucket list. Our favorites cover the spectrum - intimate neighborhood gems, chef-driven destinations, and, of course, plenty of mouthwatering Texas barbecue.
1. Salty Sow in East Austin
Tucked away in an East Austin bungalow, local favorite Salty Sow brings a creative twist to American gastropub cuisine. Their seasonal menu showcases Texas ingredients in dishes like duck-fat fries, bacon-wrapped quail, and the famed burger with house-cured bacon. With a hip but cozy vibe, it's easy to see why "Salty Sow Austin" is a regular on best restaurant lists. Be sure to browse the "Salty Sow menu" for their daily offerings.
2. Bar Chi Sushi in Downtown Austin
Find fresh, innovative sushi and Japanese small plates with a lively ambiance at Bar Chi downtown. Their fusion-inspired rolls, like the "Naughty Squid," put a creative spin on traditional sushi. With happy hour specials on rolls, nigiri, beers and cocktails, it's no wonder "sushi happy hours Austin" searches lead here. The modern, neon-lit space draws a hip crowd.
3. Wu Chow on West 5th
Experience the bold flavors of regional Chinese cuisine at Wu Chow in Old West Austin. Beyond dim sum, they prepare family recipes from Chinese provinces like Sichuan, Shanghai and Beijing. Fiery mapo tofu, hand-pulled noodles and xiao long bao dumplings satisfy "Chinese food Austin" cravings with authenticity. The chic, modern ambiance matches the forward-thinking fare.
4. Uchi
Helmed by James Beard-winning chef Tyson Cole, Uchi brings an elevated approach to sushi and modern Japanese cuisine. With choices like foie gras nigiri and fried Brussels sprouts, Uchi expands horizons for "uchi austin" fans. Exquisite presentation, premier ingredients, and melt-in-your-mouth flavors define the upscale experience that makes Uchi an Austin dining institution.
5. Intero
Find transportive, house-made pastas, pizzas, charcuterie and more with a seasonal Italian focus at Intero in East Austin. Their dishes celebrate traditional recipes but with a farm-fresh update - think squid ink chitarra with sea urchin cream. The welcoming neighborhood eatery satisfies "Intero restaurant Austin" cravings for passionate Italian cuisine.
6. Ten Ten on West 6th Street
Experience the harmony between Asian traditions and Texas ingredients at Ten-Ten on West 6th. Dishes like the spicy Szechuan beef brisket bring together the best of both cultures. Beyond creative fusion plates, classic Chinese favorites like peppery mapo tofu and wok noodles satisfy cravings. The chic, modern ambiance and downtown location make Ten Ten a local favorite for adventurous "Chinese food Austin".
7. Trace at the W Hotel in Downtown Austin
Find seasonal American cuisine and fantastic skyline views at Trace restaurant located inside the sleek W Austin Hotel downtown. Their New American menu incorporates Texas influences in dishes like the pan-seared local catfish. Equally dramatic are Trace's extensive cocktails and wine list, so peruse the "trace drink menu" for tempting sips. The classy art-filled dining room provides a destination-worthy backdrop.
8. Ramen Tatsu-Ya on South Lamar
With hours-long waits, Ramen Tatsu-Ya earned a cult following for their noodle obsession. Their broths simmer for days, noodles are house-made, and ingredients like smoked brisket and soy-marinated eggs create mindblowing flavor combos. One slurp explains why "ramen tatsuya Austin" is constantly named the city's best ramen. Check the "ramen tatsuya menu" for creative options.
9. Quattro Gatti on Congress Avenue
Authentic hand-crafted pasta, wood-fired pizzas, and Italian classics take center stage at charming Quattro Gatti. Everything from the seafood linguine to the bruschetta bursts with Mediterranean flavors. This neighborhood eatery gives an authentic taste of Italy, satisfying "Quattro Italian" cravings without the airfare to Europe.
10. Banger's Sausage House & Beer Garden
From smoked kielbasa to cheese-stuffed bratwurst, the housemade sausages shine at Banger's lively downtown beer garden. With 99 taps of craft brews, Banger's earned a following among "bangers Austin" and beer lovers. Sausages are available by the link or loaded into sandwiches and creative tacos. The vast outdoor area even includes a stage and yard games for the ultimate alehouse atmosphere.
Lavish Ride: Luxury Transportation in Austin
For exceptional vehicle service in Austin, Lavish Ride offers a range of luxury transportation options to meet your needs. Whether you need a stylish ride across town or a spacious group vehicle, their professional chauffeurs and high-end fleet ensure a first-class experience.
Luxury Sedans for Refined Travel
Their Business Class Sedans, like the Mercedes E-Class, provide refined service for airport transfers, nights out, and special events. With plush leather seating and amenities like wifi, you'll arrive relaxed and refreshed. Options include:
Mercedes E-Class: Flagship luxury with sleek styling and cutting edge tech

BMW 5 Series: Athletic luxury sedan blending performance and comfort

Cadillac XTS: Elegant interior with space to stretch out

Lexus ES: Refined craftsmanship and smooth, quiet ride
With these luxury sedans, LavishRide delivers executive-level transportation for VIPs or couples seeking a touch of class for momentous occasions.
Private SUVs for Groups or Events
Their range of sophisticated SUVs ensures a comfortable ride for families, meetings or nights out on the town. The Business Class SUVs and the first Class SUV like the Cadillac Escalade provide discretion and luxury, while the First Class Lincoln Navigator offers expansive space.
Business Class SUV:
Chevrolet Suburban: Perfect for large groups with ample cargo room

GMC Youkan XL: A powerful car suitable for transporting a number of passengers and their bags.

GMC Youkan Denali: A reliable vehicle for transporting passengers and luggage.

Ford Exbedition: A huge, reliable vehicle for transporting groups and luggage.
First Class SUV:
Cadillac Escalade ESV: Luxurious flagship SUV with seating for up to 6

Lincoln Navigator L: Range-topping SUV with lavish accommodations
For sizeable parties, the Sprinter Vans can accommodate up to 12 passengers with comfortable seating and space to mingle.
Professional Chauffeurs
Their experienced chauffeurs undergo extensive training to ensure excellent service. Uniformed drivers will arrive promptly, assist with luggage, and deliver you to your destination relaxed and stress-free. You can expect:
Timely airport pick up without waiting in long taxi queues

Help with luggage or other items for seamless travel

Escort to departure gates or curbside pickup when arriving

Efficient routing prevents traffic to reach destinations promptly
Conclusion
From spectacular sights to delicious bites, Austin offers an incredible variety of experiences for visitors. With world-class museums, vibrant entertainment districts, greenery-filled parks, and a booming food scene, the capital city provides endless opportunities for making memorable moments. Whether you're looking for family fun at Zilker Park, live music on Sixth Street, outdoor adventures like kayaking Lady Bird Lake, or a mouthwatering meal from an award-winning chef, Austin has something unique in store.