Exploring the Best Sports Facilities in Houston: A Comprehensive Guide for Sports Fans
Houston, a bustling city known for its extraordinary sports culture, offers a plethora of sports facilities and attractions.
Are you a passionate sports fan, constantly looking for new ways to recharge your adrenaline and immerse yourself in the world of athletics? If yes, then get ready for an exciting journey through one of America's busiest cities, known for its extraordinary sports culture. Houston boasts a collection of sports gems, from heart-stopping arenas to state-of-the-art training centers that will take your breath away.
Whether you're an avid fan, an aspiring athlete, or simply a connoisseur of first-class amenities, this detailed guide will reveal the secrets to the best sports havens Houston has to offer. So tighten your laces, grab your favorite jersey, and get ready to dive into a world where passion, talent, and pure sportsmanship collide. Join us on this thrilling adventure as we discover amazing sports facilities that are sure to rekindle your love of the game.
Sports Facilities in Houston
Houston, a vibrant city that pulses with sports fever, is home to an array of exciting world-class sports facilities. From the iconic Houston Football Stadium, where the echoes of roaring crowds propel the excitement to new heights, to the sprawling Houston Stadium, hosting a multitude of athletic events that leave spectators awe-struck, this city has it all. Football fans can experience the exciting atmosphere of Houston Football Stadium, where both local matches and international games create an unparalleled sense of camaraderie and rivalry. And when it comes to championships, Houston proudly showcases its heritage by witnessing unforgettable moments in sports history. The city's passion extends beyond conventional sports, as the Houston Horse Track and Houston Raceway offer thrilling experiences for those looking for an adrenaline rush.
NRG Stadium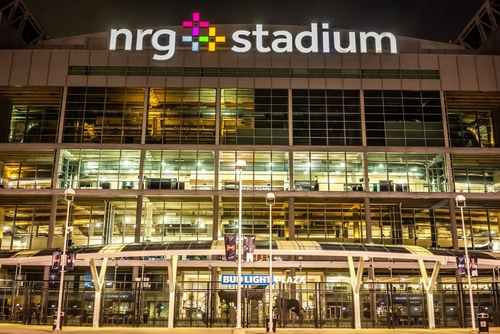 NRG Stadium, formerly known as Reliant Stadium, is a versatile, multi-purpose stadium that draws fans from all over the city. With a capacity of 71,795 people, this impressive venue covers an area of 1,900,000 square feet (180,000 m2). The playing surface itself covers a vast area of 97,000 square feet (9,000 m2). The impressive NRG stadium capacity and state-of-the-art facilities will provide an unforgettable experience for both sports and entertainment enthusiasts. This iconic NRG Houston Stadium is a hub of excitement and energy, hosting a variety of exciting events throughout the year. It's not just about football here, as NRG Stadium hosts different sporting events, from exhilarating soccer games in Houston to exciting concerts and even energetic monster truck shows.
Excitement is building in Houston as the city gears up to host some of the biggest names in sports this summer as part of the highly anticipated Soccer Champions Tour. This incredible tour features a lineup of eight matches, showcasing the talents of six renowned teams across various cities in the United States, including Texas, Nevada, California, and Florida. Among the thrilling matchups, one standout game will take place at Houston's very own NRG Stadium on Wednesday, July 26, where fans will witness the epic clash between two giants of the sport: Real Madrid and Manchester United. This encounter marks the first time these two formidable teams have faced off since 2018, making it a must-see event for soccer enthusiasts.
But that's not all for Houston Texans stadium soccer fans. The tour will also make a stop at AT&T Stadium Arlington TX on Saturday, July 29, where FC Barcelona and Real Madrid will go head-to-head in an electrifying showdown. With both matches promising incredible skill, passion, and intense competition, Houston and Arlington will undoubtedly become epicenters of soccer fever during these exhilarating encounters.
To give you a complete overview of the AT&T stadium soccer tour, here is the full lineup of upcoming soccer games that fans can look forward to:
Saturday, July 22: Juventus vs. FC Barcelona at Levi's Stadium in Santa Clara, CA.

Sunday, July 23: AC Milan vs.Real Madrid at The Rose Bowl Stadium in Pasadena, CA.

Wednesday, July 26: FC Barcelona vs. Arsenal at SoFi Stadium in Inglewood, CA.

Wednesday, July 26: Real Madrid vs. Manchester United at NRG Stadium in Houston, TX.

Thursday, July 27: Juventus vs. AC Milan at Dignity Health Sports Park in Carson, CA.

Saturday, July 29: Real Madrid vs. FC Barcelona at AT&T Stadium in Arlington, TX.

Tuesday, August 1: FC Barcelona vs. AC Milan at Allegiant Stadium in Las Vegas, NV.

Wednesday, August 2: Real Madrid vs. Juventus at Camping World Stadium in Orlando, FL.
For eager fans, pre-sale tickets will be available starting Tuesday, May 16, with general ticket sales opening on Friday, May 19. Make sure to secure your spot and be part of the exhilarating Soccer Champions Tour as Houston embraces the passion and intensity of world-class soccer.
Shell Energy Stadium
Shell Energy Stadium Houston TX is a cutting-edge open-air venue specifically designed to accommodate various stadium events game and entertainment spectacles. This stadium is also known as Houston dynamo stadium because it serves as the home ground for Houston Dynamo FC matches, Houston Dash matches, and Texas Southern University football games, while also being well-equipped to host a wide range of professional, collegiate, and community sporting events. Furthermore, the Houston dynamo stadium capacity is great for concerts, exhibitions, conventions, and special gatherings. Its inauguration on May 12, 2012, marked a significant milestone, as it became the first soccer-specific stadium in Major League Soccer situated within a downtown area.
Positioned at the heart of the city, Shell Energy Stadium forms an integral part of a vibrant 'Stadium District.' This dynamic locale encompasses other prominent venues such as Minute Maid Park and the Toyota Center, in addition to the George R. Brown Convention Center, Discovery Green, Warehouse Live, and House of Blues.
Since its inception, Shell Energy Stadium has garnered widespread acclaim by hosting a multitude of prestigious international events and single events in Houston. From exhilarating club friendlies to charitable endeavors during times of natural disasters, this downtown gem has opened its doors to a plethora of thrilling occasions. Some noteworthy events held at the stadium include:
CONCACAF Gold Cup matches

United States Women's National Team fixtures

USA Rugby competitions

Dynamo Charities Cup encounters
Beyond the confines of the downtown stadium, Shell Energy's positive influence extends to the community through various initiatives. One such program is Futbolito in the City, which made a meaningful impact on nearly 1,000 local children in 2022. This program provides complimentary soccer coaching to youth players across two five-week periods, spanning multiple locations within the city.
Minute Maid park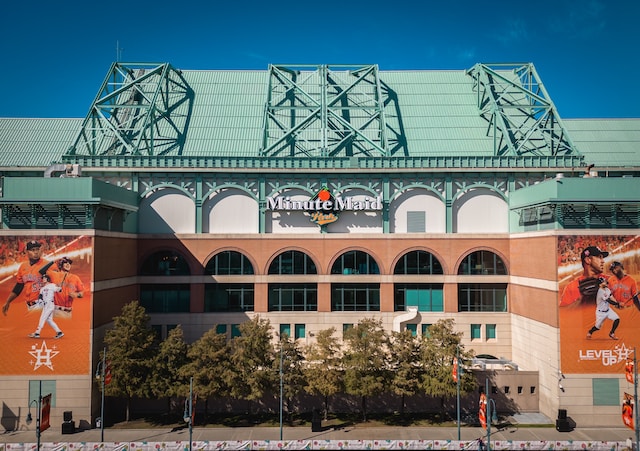 Minute Maid Park, the esteemed home of the Houston Astros in Major League Baseball, is a highly sought-after destination during the summertime in Houston. Minute Maid Park capacity is over 40,000. That's why this park offers much more than just a place to watch a game. A notable feature is the replica of a 19th-century locomotive that traverses approximately 800 feet along the west side of the stadium. It illuminates and emits sounds at pivotal moments, such as when the team takes the field on the natural grass, when an Astros player scores a home run, and when the team secures a victory. The air-conditioned environment provides respite from the scorching summer heat, while the fully retractable roof allows for fresh air circulation on milder days. Even when the roof is closed, a magnificent 50,000-square-foot glass section ensures that the city's captivating skyline remains visible.
Visitors are encouraged to plan their trip on a Friday fireworks night to witness an awe-inspiring display. Additionally, those with an appetite for distinctive ballpark cuisine will not be disappointed. Minute Maid Park offers an extensive array of food options, ranging from traditional favorites like hot dogs and nachos to health-conscious salad bars. However, it is worth noting that Minute Maid Park bars are also very famous among visitors.
Minute Maid Stadium is conveniently located just a few blocks away from attractions such as Discovery Green and the Marriott Marquis Houston. Visitors will find an ample supply of approximately 25,000 paid parking spaces available in lots and garages within walking distance of the park. The ballpark is easily accessible on foot from downtown, and the METRORail Green and Purple lines conveniently serve the Convention District stop. Even for those not attending a game, Minute Maid Park offers guided tours to explore its remarkable features. The tour options range from the one-hour classic tour to the more comprehensive two-hour Ultimate Fan tour, with varying ticket prices to suit different preferences. Visit their official site to get Minute Maid Park Astros tickets.
Sam Houston Race Park
Sam Houston Race Park stands as the ultimate racing, dining, and entertainment hub in Houston, conveniently situated just a short 15-minute drive from downtown. A visit to this remarkable destination promises an evening filled with excitement, as it offers a plethora of engaging activities for all to enjoy.
The highlight of Sam Houston Park is undoubtedly the live Sam Houston Horse Track experience. With a lineup of 10 exhilarating races held each night, spectators are treated to a showcase of speed, skill, and the undeniable beauty of these majestic creatures. The adrenaline-fueled atmosphere is further enhanced by the option to partake in simulcasting action from renowned racecourses around the globe, allowing guests to witness the thrill of races happening in different corners of the world.
Delightful dining options await at the Winner's Circle Restaurant and the Jockey Club, where patrons can indulge in delectable cuisine while immersing themselves in the captivating ambiance of the racecourse. From exquisite gourmet dishes to classic favorites, the culinary offerings cater to a diverse range of palates, ensuring a satisfying dining experience for all.
You can visit to enjoy different events at sam houston race park. For those seeking a quick bite or a snack, the Paddock and Club Levels boast an array of concessions, serving a variety of delectable treats to satisfy cravings throughout the evening. Whether it's a freshly grilled burger, crispy fries, or a refreshing beverage, the concessions provide a convenient and flavorful culinary selection.
In addition to the racing and dining experiences, you will also see live concerts at Sam Houston Race Park. This vibrant space sets the stage for memorable performances by talented artists across various genres, providing an electrifying backdrop to complement the already captivating atmosphere of the race park.
From the thundering hooves on the racetrack, Circus at Sam Houston Race Park, to the savory flavors tantalizing the taste buds, Sam Houston Race Park delivers an extraordinary evening of entertainment, making it an unrivaled destination for racing enthusiasts, food connoisseurs, and those seeking a memorable night out.
Rice Stadium
Rice Stadium is a football stadium located on the Rice University Stadium campus in Houston, Texas. It has been the home of the Rice Owls football team since it was completed in 1950. Over the years, it has hosted significant events like Super Bowl VIII in early 1974 and John F. Kennedy's famous "We Choose to Go to the Moon" speech in 1962.
Architecturally, Rice Stadium Houston is a modern and functional example of design. It has a simple and unadorned look with clean lines. The seating bowl is situated below ground level, providing excellent sightlines from almost every seat. To enhance the viewing experience, the running track was removed, bringing spectators closer to the action. The upper decks were angled inward to improve sightlines. Many people consider it the best stadium in Texas for watching football. The entrances and aisles were strategically positioned, allowing the entire stadium to be emptied of spectators in just nine minutes. Rice football Stadium is also frequently used for high school football games, including neutral-site playoff games. Additionally, this football stadium in Houston TX can serve as a concert venue.
Toyota center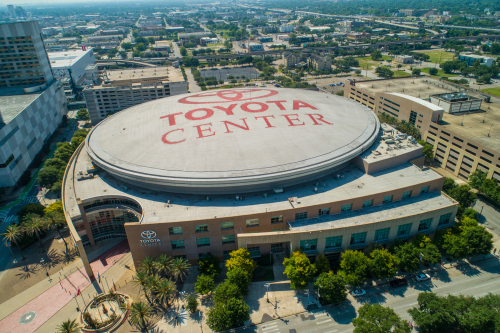 The Toyota Center, located in Houston, TX, is a renowned venue known for its exceptional quality. It is highly regarded among fans as one of the premier destinations for live entertainment in the city. While the Houston Rockets basketball team primarily calls the Toyota Center home, it has also hosted a variety of other events.
When attending concerts at the Toyota Center Houston, the ideal seating choice is usually on the floor, allowing you to get as close as possible to the performers. Alternatively, seats on the sides of the stage in sections 105-108 offer a close view from an elevated angle. For a direct and clear view of the stage, sections 113, 114, 417, and 418 are recommended. While these seats may not be as close, they provide an excellent vantage point to enjoy the show.
For sporting Toyota Center events, courtside seats are unbeatable, providing exclusive access to clubs and lounges. Section 114, known as the home of the Red Rowdies, is another option for passionate fans. However, visiting fans may want to avoid this section. If you're seeking affordable Rockets tickets that still offer great views, sections 409 and 426 are recommended. Although elevated, these sections provide a central view of the court and an exciting perspective of the action.
Before the game, take some time to explore Legend Lockers at section 414, which showcases replica lockers of Rockets legends, offering an opportunity to learn about the franchise's history. Nearby Houston Toyota Center, you'll find Memorial Hermann Sky Court, a fantastic spot for kids with games, face painting, and a make-a-sign station. Prior to the game, the Rockets Dance Team and mascot Clutch also sign autographs here if you arrive early enough, 45 minutes before the game.
While there are several dining options in the vicinity of the Toyota Stadium Houston, the venue itself offers a plethora of excellent choices. Instead of a regular hot dog, consider indulging in a half-pound steak dog—a 10-inch Angus beef creation topped with potato salad and chopped brisket. For a lighter option, the bacon mustard dog is a great choice. The arena also offers various burgers, wings, and nachos, including options with prime rib or lobster—a touch of elegance for your taste buds.
TDECU
TDECU Stadium was specifically designed to enhance the university, elevate the Cougar football program, and offer a modern gameday experience for fans and student-athletes. It was built on the location of the old Robertson Stadium, with the collaborative design efforts of Page. One of our key modifications was adjusting the orientation of TDECU Stadium to align better with nearby campus buildings and provide clear views of the iconic downtown Houston skyline.
The stadium's exterior consists of two distinct elements that work together to give it a unique identity. The base is composed of rectilinear forms that house conditioning and athletic support spaces. This ground level seamlessly integrates with the overall campus layout and utilizes familiar materials. Above the base, the second thematic element, known as the "Cougar Cage," is a permeable, patterned metal wrap that surrounds the stadium. This distinctive facade incorporates bold red thematic elements, creating a sense of movement and serving as clear visual cues to guide fans towards the stadium entrances.
Initially, the stadium had a seating capacity of 40,000. However, their phased master plan allows for future expansion, ultimately accommodating up to 60,000 fans. One notable feature is the stadium club, located just 25 feet above the field, providing fans with close proximity to the action compared to similarly sized stadiums across the country. At the southeast corner of the stadium, there is a 5,000-square-foot home locker room that offers club area fans views of the players as they approach the field. Throughout the venue, there are strategically placed seating options to cater to different preferences. The south side of the stadium boasts twenty-six suites that stretch from end zone to end zone, seamlessly integrating with the premium club-level lounge below. Additionally, the east end of the stadium houses the Bert F. Winston Band and Performance Center, which includes recital halls, classrooms, multi-purpose areas, and a ticket office, making TDECU Stadium a true campus amenity.
Smart Financial Center
Experience a spectacular live entertainment venue that has received numerous accolades and global recognition. The Smart Financial Centre offers an exceptional platform to catch top-tier performers. This cutting-edge facility was honored as "Houston's Hottest Music Venue" by the esteemed Houston Press and recognized by Billboard magazine as one of the "2017 Top New and Renovated Venues." In fact, it currently holds the 6th position worldwide for ticket sales among venues with under 10,000 seats, as reported by Pollstar Magazine, a leading publication in the concert industry.
At the Smart Financial Centre Sugar Land, you can enjoy an extraordinary range of entertainment options. From A-list musical headliners and hilarious comedy acts to captivating family shows and stunning Broadway productions, there is something for everyone. The venue also hosts an array of cultural and performing arts attractions, adding a touch of sophistication to its diverse lineup.
Conveniently situated just 22 miles from downtown Houston, the Smart Financial Centre is easily accessible via U.S. Highway 59 and University Boulevard. This state-of-the-art, indoor venue spans an impressive 200,000 square feet. It is designed with the utmost flexibility in mind, featuring innovative moveable walls that can adapt to create four distinct seating capacities. Whether you prefer an intimate Smart Financial Center Seating with 1,900 seats or a larger-scale event with a maximum capacity of 6,400, the Smart Financial Centre Houston can accommodate your needs. Furthermore, it boasts 14 luxury suites, corporate hospitality areas, and cutting-edge sound, lighting, and video technology to enhance the overall experience. Additionally, the venue offers ample space for up to 14 trucks and buses, along with 2,500 guest parking spaces.
Visit the Smart Financial Centre Sugar Land Texas, and immerse yourself in unforgettable live performances in a world-class setting.
Houston Ground Transportation: Learn more about the most luxurious transportation services
When visiting sports facilities in Houston, you have several options for ground transportation to choose from. These options include taxis, ride-sharing services like Uber and Lyft, public transportation, and car rentals. While each option has its merits, luxury chauffeur service Houston stands out as the best choice for a seamless and luxurious experience.
Taxis are a traditional mode of transportation, but they may not always provide the level of comfort and reliability desired. Ride-sharing services offer convenience and competitive pricing, but they lack the exclusivity and personalized service of a chauffeur-driven black car.
Public transportation, such as buses and trains, can be an affordable option for getting around Houston. However, it may involve multiple transfers and longer travel times, which might not be ideal when visiting sports facilities.
Car rentals offer flexibility and independence, allowing you to explore Houston at your own pace. However, navigating an unfamiliar city and dealing with parking can be stressful, especially during busy sporting events.
In contrast, black car service Houston offers a premium transportation experience. With a professional chauffeur at the helm, you can sit back, relax, and enjoy a comfortable ride to your desired sports facility. Luxury car service Houston prioritizes punctuality, ensuring you arrive at your destination on time, even in heavy traffic.
Moreover, black car chauffeur services provide an extra level of convenience and luxury. The vehicles are meticulously maintained and equipped with amenities like plush seating, climate control, and entertainment systems. You can travel in style and comfort, enhancing your overall experience.
The personalized service of a black car chauffeur is another significant advantage. Chauffeurs are experienced professionals who are well-versed in navigating Houston's roads and traffic patterns. They can take the most efficient routes to ensure a smooth and efficient journey. Additionally, chauffeurs are trained to provide exceptional customer service, catering to your specific needs and preferences.
Safety is a paramount concern when traveling, especially in an unfamiliar city. Black car transportation services Houston prioritize passenger safety, with licensed and insured drivers who undergo rigorous background checks. You can have peace of mind knowing that you are in capable hands.
Lavish Ride black car chauffeur service Houston stands out as the superior choice when visiting sports facilities. It offers a luxurious and hassle-free experience, combining comfort, convenience, and personalized service. So, sit back, relax, and let a professional chauffeur transport you to your desired sporting event in style