Exploring Houston's Must-See Museums: The Definitive Guide for Culture Lovers
This article is a comprehensive guide to the best museums in Houston, Texas. The top 10 best museums in Houston along with the best things to do.
Houston is well known as "Hustle-Town", as the city signifies diverse culture, vibrant atmosphere, economic welfare, international trade, growing art scene, and all types of tourism. Houston is the fourth most populous city in the United States, it's a cosmopolitan destination with a high standard of living. H- Town never ceases to amaze people with its modern infrastructure, natural landscape, art & culture, recreational experiences, and sightseeing. Houston offers numerous cultural attractions and experiences which entice a high rate of tourism in the H-
Town. Houston takes pride in having a collection of world-class Museums which makes the H-Town an idyllic site for art enthusiasts and science & history aficionados.
10 Best Museums in Houston to Explore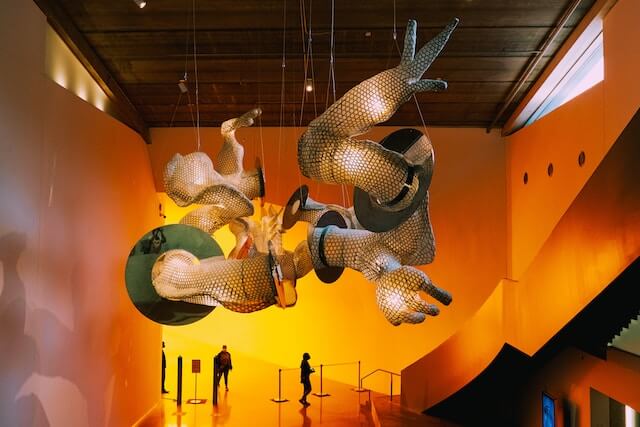 Everything about Houston's culture and arts is astonishing, the city is proud to offer the best cultural scenes and settings in Texas. The most interesting thing is there are more than 150 museums in Houston along with several cultural and national institutions. The Houston museums are diverse and cover almost every major cultural aspect from arts, history, science, nature, technology, and more. These diverse and intriguing museums in Houston tx are the main attraction of local and foreign travelers, as nobody wants to miss the exciting opportunity of checking out the fun museums in Houston. The must-visit top 10 best museums in Houston are listed below:
The Printing Museum, Houston

Military Museum of Texas, Houston

Houston Museum of African American Culture, Houston

Children's Museums of Houston, Houston

Museum of Fine Arts, Houston

The Health Museum, Houston

Asia Society Texas Center, Houston

ArtCar Museums, Houston

Lawndale Art Center, Houston

Space Center Houston, Houston
The Printing Museum, Houston
The Printing Museum Houston is a well-known institution that exhibits the art, history, evolution, and modern technology of printing and its significance and impact on society. The Houston printing museum is an intriguing establishment that tells the unique history of printing art and communication in ancient civilizations and also showcases the progression and development of communication in modern society. The printing museum Houston always gains the attention of people who are inspired by the history, evolution, and modern advancement of society.
In 1979, four famous printers Raoul Beasley, Vernon P. Hearn, Don Piercy, and J.V Burnham opened the museum to exhibit their private print collections. The print museum Houston was officially opened to the public in 1982, and it was rebranded in 2012. The Printing Museum Houston is undoubtedly a great educational and historical source for Houstonians and visitors to explore old and modern ways of communication.
The Printing Museum Houston exhibits more than 10,000 artifacts in its permanent collection, which also includes the earliest printing documents. The museum also possesses Gutenberg Bible, antique books and manuscripts, contemporary limited-edition works on paper. The museum is a magical place to visit to explore old books, rare ancient documents, the history of printing, and a stunning collection of rare artifacts.
Museum is located at 3121 San Jacinto Street Houston, Texas 77004, and opened on Monday to Friday from 10:00 am to 5:00 pm. The museum offers exciting virtual tours, group tours, and field trips to kids and adults, the museum also organized cultural events regularly.
Military Museum of Texas, Houston
Military Museum of Texas, Houston is a non-profit institution that is dedicated to the memory of Texans who served in the nation's armed forces a. The military museum of Texas is a historical place that exhibits the lives of those brave solider who fought valiantly for the freedom and liberty of the country and its people.
The military museum Houston is located at 8611 Wallisville Rd Harris County Houston, TX 77029, the museum opened on Wednesday-Friday from 10:00 am to 6:00 pm and on Saturday-Sunday from 8:00 am to 6:00 pm. The museum offers complete guided educational tours of the area and enlightens the visitors with history and stories of brave soldiers.
The military museum in Texas exhibits a wide-ranging collection of historical military artifacts, such as military vehicles, battlefield equipment, and artillery piece, which is probably the main attraction for visitors. The museum also showcases memorabilia, uniforms, letters, and many other preserved objects that tell the inspiring stories of soldiers that fought to keep the country safe and free. The museum also displays preserved military vehicles and helicopters in a warehouse, it also serves as an educational and historical research facility. The Houston military museum also organized conventions, meetings, and events for military establishments.
Houston Museum of African American Culture, Houston
Houston Museum of African American Culture is one of a kind institution that exhibits the unique material and intellectual culture of Africans and African Americans. The Houston Museum of African American Culture works to exhibit, preserve, explore, and infer the historical culture and values of African Americans. The african american museum Houston invites visitors from all ethnicities and races to explore and learn about the African American culture. HMAAC aspires to share cultural histories and experiences with people and highlight the significance of cultural interrelationships in the community.
The HMAAC is a well-recognized site and it is also the most visited African American Cultural Institute in Houston, Texas. The HMAAC was opened to the public in 2012, and the museum takes pride in hosting 50,000 annual visitors. The museum displays an impressive collection of artworks created by the community that highlights the different aspects of culture. The HMAAC offers educational tours, a culture shop, intriguing & awareness exhibitions, cultural films, artwork, virtual screenings, and lectures. HMAAC preserves the art, stories, memories, artifacts, and memorabilia of many influencing and inspiring personalities that dedicated their life to serving their community through their work and art.
The Houston Museum-African American Culture is located at 4807 Caroline Street, Houston, Texas 77004, and the museum opened on Friday-Saturday from 11:00 am to 6:00 pm. The HMAAC exhibition displays Souls of Black Folks, Metamorphosis, Curator Corner, and the 2020 Bert Long Jr. Gallery.
Children's Museum of Houston
Children's Museum of Houston is a paradise site for kids, it is the most exclusive one-of-a-kind family museum for kids. The Children's Museum of Houston is rated as the No. 1 kids' museum in the United States according to Parent Magazine. The Houston Children's Museum is located in the Museum District of Houston, it is situated on 90,000 square feet and packed with innovative learning programs and exhibits for kids aged 0-12. The museum hours are 10:00 am to 6:00 pm from Monday to Saturday, and 12:00 pm to 6:00 pm on Sunday, free family nights are on Thursday from 5:00 pm to 8:00 pm.
The Children's Museum of Houston opened in 1984, and its building was designed by Robert Venturi. After that, the museum went through many expansions and developments, and in 2009 the expansion project was fully completed. The museum offers creative bilingual, community-based educational outreach programs for family learning. The Children's Museum Houston hosts more than I million visitors annually and also serves 250,000 people in outreach programs.
The CMH permanent exhibits are listed below:
EcoStation

Genius Station

Flow Works

How Does It Work?

Invention Convention

Kids' Hall

Kidtropolis, USA

Maker Annex

Matter Factory

Newton Known-How!

Parent Resource Library

Power Science Lab

PowerPlay

SECRET Spy Game

Shocks and Jolts

Sonadora: Yuyi Morales

Tot*Spot

Yalalag
Museum of Fine Arts, Houston
The Museum of Fine Arts Houston (MFAH) is the most renowned and oldest art museum in Texas and in the United States. The Museum of fine arts, Houston is located in the Museum District of Houston and exhibits a comprehensive collection of artwork from different regions and periods. The Museum of fine arts houston displays intriguing and antique artifacts from all six continents from different periods on over 300,000 square feet of exhibition space. The Houston Museum of fine arts is the 12th largest art museum in the world according to the square feet of galley area or exhibition space.
MFAH's first building was opened in 1924, after that the museum went through redevelopment and expansion. Now, Houston fine arts museum has 3 buildings, two decorative arts house museums, a conservation and storage facility, and an art school. The art museum houston collection has nearly 70,000 works of art spanning 5000 years and six continents. The collection of artworks in museums lies in French Impression, photography, American and European decorative arts, American art, Italian Renaissance painting, African and pre-Columbian gold, post-1945 European and American painting, and Sculpture.
The Houston Museum of Art exhibits popular artworks of Paul Signac, Edward Hicks, Paul Cezanne, Claude Monet, and many others. The main attractions in MFAH are Rienzi, Bayou Bend Collection and Gardens, MFA Café, MFA Shop, and Glassell School of Art. The opening hours of the museum are varied, and it can easily be found on the official website of MFAH.
The Health Museum, Houston
The Health Museum Houston is also known as the J.P McGovern Museum of Health and Medical Science, it is located in the Museum District of Houston, Texas. The health museum Houston is a member institution of the Texas Medical Center, and it is the main attraction for people who are curious about health science and technological advancement. The Houston health museum hosted over 2.5 million visitors and is considered to be the most popular health science learning center in the State.
The health museum Houston was established in 1969 to educate people about the quality of health standards through outreach programs and exhibitions. After that, the health museum continued to expand in space and exhibition area. The Houston medical museum exhibits health science works in the Amazing Body Gallery, DeBakey Cell Lab, McGovern Theatre, and Sue Trammel Whitfield Gallery.
The Health Museum organized different private and public events to engage the audience regarding the advancement of medical and health science. The museum also offers programs like discovery summer camps, school programs, field trips, fast cart, global teen medical summit, homeschool programs, scout programs, and Siege of the Skeleton.
Asia Society Texas Center, Houston
Asia Society Texas Center is an Asian cultural institution located in the Museum District of Houston to promote Asian culture. The Asia Society Texas Center opened in 2012, and it is situated on a 40,000 square feet area it was designed by the famous Japanese architect Yoshio Taniguchi. The Asia society museum aspires to celebrate the vibrant cultural diversity of Asia with people and nurture the understanding of interconnected cultures in the United States.
The vision of the Asia Society Houston is the cultural development of the community, the Asia society texas center believes in the power of art, dialogue, and ideas in society to cope with issues. The Texas Asia Society takes pride in upholding social values and focuses on art, culture, ideas, business, policy, and education. The Asia Society invites people from every culture to explore thought-provoking exhibitions, family festivals, cultural events, policy conversations, and many more outreach and educational programs.
The Asia Society Texas Center features an exclusive art gallery, conference space, classrooms, theatre, gardens, and café. The Asian Society Museum also showcases Asian arts through film, paintings, and live performances from Asian artists. The Asia Society Center displays different programs and exhibitions, some are listed below:
Education Programs

Women's Leadership Series

Live Art

Muslim Series

AsiaFest

Night Market

Teen Programs

Community Programs

Art Exhibitions
ArtCar Museum, Houston
ArtCar Museum Houston is a unique private institution, its nickname is "Garage Mahal". The art car museum is focused on the contemporary art style and welcomes everyone to come and enjoy the unique and rare work of local, national, and international artists. The art car Museum aspires to educate people regarding the different dimensions of art forms and their impact on the community.
The art car houston museum was opened in 1998 by Anna Harithas and James Harithas. The museums display the fusion of fine, folk, and public arts by local and international artists and hope to create a magical experience for visitors. The art car museum Houston features the most vibrant, innovative, and artfully constructed art cars, rare low riders, and mobile contraptions.
The ArtCar Museum is open on Wednesday-Sunday from 11 am to 6:00 pm, and it is located at 140 Heights Blvd, Houston, Texas 77007. The car art museum offers unique art car exhibitions, car shows, and different events to raise awareness regarding contemporary cars and fine art.
Lawndale Art Center, Houston
Lawndale Art Center Houston is a famous multidisciplinary art institution promoting the contemporary art of local artists. The Lawndale Art Center is located at 4912 Main St, Houston, Texas 77002, the art center is situated on 100,000 square feet. The Lawndale art houston center strives to encourage connections within the community through art and raise awareness regarding the social and critical issues of society.
Lawndale Art Center was established in 1979 in the empty warehouse of the University of Houston, it began as a gallery space for students. The gallery filled with artworks of local artists within no time and started to organize exhibitions and art performances. In 1989, the Lawndale Houston gained its nonprofit status and moved to the new building on Main St. The Lawndale Center features comprehensive exhibitions and programs which include live performances, readings, film screenings, lectures, and musical programs.
Lawndale Art Center offers Artist Studio Programs to support the artists by giving them studio space, counseling, and guidance from the board of advisory and curators. The Lawndale Art Center aspires to develop and support the artistic community of Houston and promote its work.
Space Center Houston
Space Center Houston is a Smithsonian Affiliate science museum, it is the official visitor center of NASA Johnson Space Center. The Houston space center is a nonprofit educational Foundation that is the leading science and space exploration learning center. The Space Center features a space museum which is the top attractions for Houstonians and international travelers. The NASA space center hosts 1.25 million visitors annually and welcomed more than 25 million people since it opened.
The space center was opened in 1992, and it is situated on 250,000 square feet. The NASA Houston space center seeks to provide engaging education and learning opportunities that focus on science, technology, engineering, and mathematics (STEM). The goal of these educational programs is to inspire kids to explore space and technology-related subjects.
The NASA Museum Houston displays 400 space artifacts and features space exhibitions, theatres, films, and educational space programs. The museum also features a tour of the johnson space center to explore the astronaut's training, space suits, NASA mission control, and innovative engineering projects. The houston nasa space center offers different programs, some are listed below:
Day Camps

Explorer camps

Family overnight camps

Space Center U

Field trips

Innovation gateway

Space Exploration Educator Conference

Scout camps

Star & STEM
Conclusion
A trip to Houston would be incomplete if visitors miss out on the top museums that the city has to offer. These Houston museums tell so much about the city and its art, community, culture, and interrelated connections. Visiting the museums in Houston via public transportation can somewhat be a dramatic experience for travelers. Lavish Ride offers the solution and provides the best luxury car service Houston has to offer with comfortable seats and a luxurious atmosphere. The professional chauffeurs of extensive luxury fleets promise a deluxe experience to you and your family. Need a luxury ride to visit the museums in H-Town? Book the premium Houston sedan service with Lavish Ride. Lavish Ride: Secure Your Safety