Exploring Houston: Your Guide to Ground Transportation Options
Discover Houston Ground Transportation, Explore diverse transportation options public, share, or Luxury transportation for getting around Houston.
Houston, a vibrant city in Texas, boasts numerous transportation options to accommodate the needs of its residents and visitors. This easy-to-understand blog post will explore the various types of Houston transportation available, helping you make informed choices for airport transfers, business trips, or leisurely rides around the city.
A Quick Glance at Houston Ground Transportation
The city's transportation system comprises public transit options like buses and light rail and private services such as taxis, ride-sharing apps, luxury transportation, and black car services. Each decision has unique benefits and drawbacks, which may fluctuate based on price, comfort, and personal inclinations.
Houston airport transportation is essential in connecting travelers to and from the city's two major airports - (IAH) and (HOU). Many people opt for Houston airport car service providers to ensure a comfortable and hassle-free journey, particularly after long flights.
Understanding the Importance of Different Options Available
Choosing a suitable mode of transportation can significantly impact your travel experience in Houston. Knowing the various options lets you pick the most appropriate service that aligns with your budget, time constraints, and comfort requirements.
Whether you're a frequent traveler or visiting the city for the first time, understanding the different types of Houston airport transportation can help you make the most of your stay. Houston has something to offer everyone, from luxury transportation for special occasions to efficient black car services for business trips.
Stay tuned as we discuss each transportation option in detail, guiding you toward the best choice for your needs.
Houston METRO Rail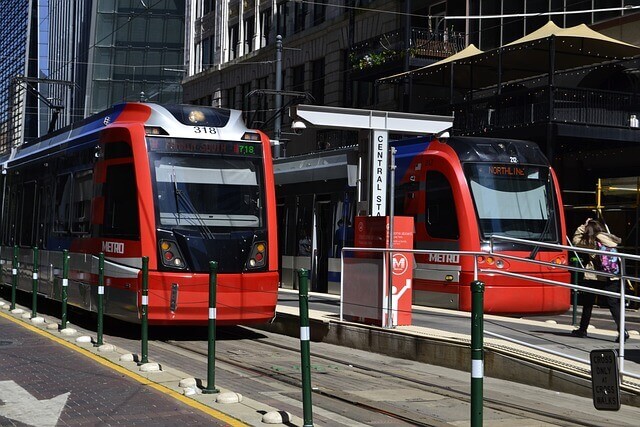 Houston METRO Rail plays a crucial role in the city's public transportation system, providing an affordable and eco-friendly alternative to private vehicles. This section will discuss the METRO Rail system, its operating hours and schedule, popular destinations, and future expansion plans.
An Overview of the METRO Rail System
Managed by the Harris County Metropolitan Transit Authority (METRO)
Houston METRO Rail is a light rail transit system comprising three lines – Red Line, Green Line, and Purple Line – that cover over 22.7 miles and serve 44 stations across Houston.
Being the oldest and lengthiest of the three lines, the Red Line – the North/Interstate 45 corridor – extends from Northline Transit Center to Fannin South Station. Meanwhile, the Green Line (East End Line) connects Magnolia Park Transit Center to Theater District, and the Purple Line (Southeast Line) runs from Palm Center Transit Center to Theater District.
Offering a convenient and cost-effective solution for commuters, tourists, and locals alike, Houston METRO Rail charges only $1.25 per ride. The trains are accessible to people with disabilities and have designated areas for bicycles, making them a versatile option for all types of travelers.
Schedule and Operating Hours
Although the METRO Rail schedule varies slightly for each line, trains generally operate from around 4:30 am to midnight on weekdays, with reduced hours on weekends and holidays.
During peak hours, trains run approximately every 6 minutes, while off-peak hours see trains running every 12-20 minutes. To ensure a smooth journey, checking the Houston METRO Rail hours and schedules for individual lines on the METRO website or through their mobile app is recommended.
Popular Destinations and Expansion Plans
Connecting passengers to popular destinations, the Houston METRO Rail offers access to the Museum District, Texas Medical Center, Theater District, and sports venues such as Minute Maid Park, BBVA Stadium, and NRG Stadium.
With ambitious expansion plans in place, METRO aims to enhance connectivity and reduce traffic congestion in the city. The Houston METRO Rail expansion includes constructing new lines and extensions to existing ones, as outlined in the METRONext Moving Forward Plan. Key projects include the University Corridor, Uptown Line, and Inner Katy Line, further improving access to major employment centers, universities, and residential neighborhoods.
Houston METRO Bus System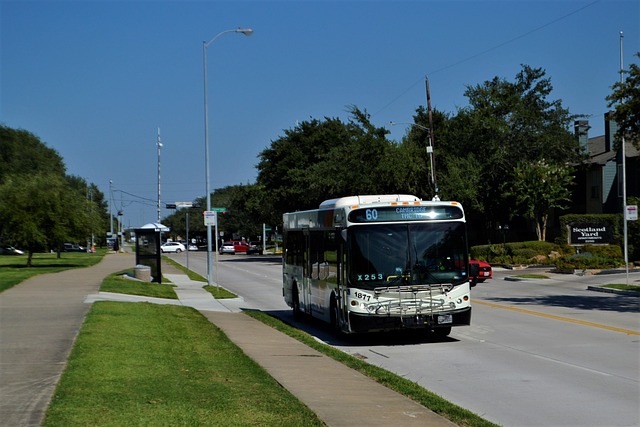 In addition to the METRO Rail, Houston offers an extensive bus network that caters to the transportation needs of locals and visitors alike. In this segment, we will summarize the Houston METRO Bus system, delve into its routes and timetables, and demonstrate how to utilize the Houston METRO bus application for a smooth commuting experience.
Exploring the Bus System in Houston
The Houston METRO Bus system is a valuable counterpart to the rail system. Managed by the Harris County Metropolitan Transit Authority, the system encompasses over 1,200 buses and 9,000 stops throughout the city. This extensive network ensures convenient access to various destinations, including residential areas, commercial centers, and tourist attractions.
METRO buses have features such as wheelchair ramps, bike racks, and free Wi-Fi, ensuring a comfortable and accessible ride for all passengers. The bus fare is also quite affordable, with a single trip costing $1.25.
Understanding Routes and Schedules
The Houston METRO Bus routes cover a vast area, offering local, express, and park-and-ride services to cater to diverse travel requirements. Local buses have frequent stops and operate on major streets, while express buses offer limited-stop services connecting suburban areas to downtown Houston. Park-and-ride buses facilitate long-distance commuting from suburban parking lots to central business districts.
To find the most suitable route and schedule for your journey, visit the METRO website or the Houston METRO app. These online resources provide detailed information about bus routes, timetables, and real-time arrival predictions, allowing you to plan your trip efficiently.
Navigating with the Houston METRO Bus App
The Houston METRO Bus app is handy for navigating the city's public transportation system. The app offers various features for both iOS and Android devices to improve your travel experiences, such as trip planning, real-time bus tracking, and mobile ticketing.
Houston Shuttle Buses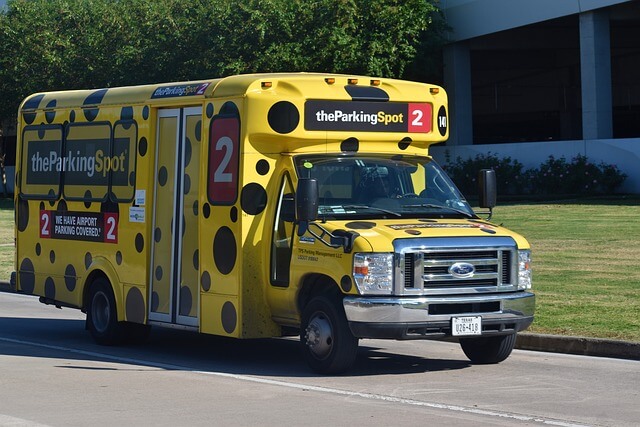 Shuttle buses provide an excellent alternative for those seeking convenient transportation options in Houston. In this section, we will discuss airport shuttle services and introduce SuperShuttle Houston, a popular provider of shared-ride services.
Airport Shuttle Services in Houston
One of the key benefits of using shuttle buses is their availability for airport transfers. Many travelers opt for the Houston airport shuttle to downtown services, as they offer a comfortable and cost-effective way to reach their destination. These shuttles operate between George Bush Intercontinental Airport (IAH) and William P. Hobby Airport (HOU), connecting passengers to hotels, convention centers, and other points of interest in the city.
Introducing SuperShuttle Houston
Among the various shuttle services available in Houston, SuperShuttle Houston stands out as a popular choice for many travelers. This reputable company provides shared-ride van services that are both affordable and reliable. Boasting a collection of well-kept vehicles and proficient drivers, SuperShuttle Houston guarantees a relaxing and hassle-free trip.
Booking a ride with Super Shuttle Houston is straightforward. You can make reservations online or via their mobile app, providing travel details and selecting your preferred pickup time. Once your reservation is confirmed, SuperShuttle will assign a vehicle and driver to your booking, ensuring timely pickup and drop-off at your specified locations.
Ride-Sharing Services (Uber and Lyft) in Houston
In the bustling city of Houston, ride-sharing services like Uber and Lyft have taken the transportation scene by storm, providing an electrifying alternative to traditional taxis. Let's dive into the world of rideshare Houston and explore the exhilarating experience of these rideshare apps!
A Thrilling Overview of Ride-Sharing Services in Houston
Uber Houston and Lyft Houston are revving the streets, giving residents and visitors an adrenaline-packed way to navigate the city. These dynamic rideshare companies let users request a ride through their smartphone apps, connecting them with nearby drivers ready to whisk them away to their desired destination.
With a pulse-pounding range of vehicle types and service levels, riders can tailor their experience to suit their preferences and budget. Looking for an affordable ride? UberX and Lyft offer wallet-friendly trips in comfortable sedans. Craving a more luxurious experience? Uber Black and Lyft Lux deliver premium rides in high-end vehicles with professional drivers.
But wait, there's more! For those seeking an alternative to Uber and Lyft, options like luxury transportation or black car services provide an air of exclusivity. Consider factors like Houston's notorious humidity and potential privacy concerns in shared rides when choosing the perfect ride for your adventure.
The Ultimate Showdown: Comparing Uber and Lyft
As popular rideshare apps in Houston, Uber, and Lyft have a unique flair. Pricing can fluctuate, with Lyft's estimates showing lower rates during off-peak hours. Yet, both services generally offer competitive pricing, and surge pricing may kick in during high-demand periods.
The user experience within the apps is strikingly similar, letting you set pickup and drop-off locations, track your driver's arrival, and make cashless payments with ease. Rest assured, both companies prioritize safety with driver background checks and in-app emergency assistance.
Tips for an Unforgettable Rideshare Experience
Ready to conquer Houston with Uber or Lyft? Keep these tips in mind:
Double-check your pickup location and destination before hitting Lyft to request a ride or Uber.

Compare prices between Uber and Lyft to snag the best deal for your journey.

Stay vigilant about surge pricing during events or peak hours – patience might save you some bucks!

Hunt for promo codes or discounts, especially if you're a new user.
So, whether you're driving Lyft in Houston or hopping into an Uber, embrace the thrill of on-demand transportation! And, if you're craving something more upscale, remember chauffeur service and chauffeur service near me options. Houston, here we come!
Houston Yellow Cabs and Taxis
Long before the rise of rideshare apps, yellow cabs, and taxis have been the backbone of urban transportation, with Houston proudly embracing this tradition. In this section, let's explore Houston taxi services and learn how to track down a yellow cab near me for an iconic and convenient ride.
The Vibrant World of Yellow Cab Services in Houston
Houston's taxi services, such as Yellow Cab Houston, offer a classic and dependable transportation option for residents and visitors alike. Sporting their unmistakable bright yellow color, these cabs can be spotted throughout the city, especially near airports, hotels, and popular attractions.
Operating 24/7, Yellow Cabs provide non-stop service for anyone needing a ride. Licensed and regulated by the City of Houston, these cabs ensure drivers meet specific requirements, and vehicles undergo regular inspections, guaranteeing passengers a safe and comfortable journey.
One significant advantage of choosing a yellow cab taxi over rideshare apps is the ability to hail them on the street, making them an ideal choice for those without a smartphone or internet access.
How to Find a Yellow Cab Near You: A Step-by-Step Guide
Discovering a yellow taxi cab in Houston is a breeze with these handy tips:
Hail a cab directly from the street in bustling areas like downtown, airports, or tourist hotspots.

Seek taxi stands near hotels, shopping centers, and transportation hubs.

Call cab companies like Yellow Cab Houston directly using their phone number (yellow cab Houston TX) to request a pickup.

Utilize a taxi app or the Houston taxi service website to book a cab online.
With these options at your fingertips, finding taxis or a 24-hour cab service near me has always been challenging. So, jump into a classic yellow cab or choose from the various cab companies near me and experience the timeless charm of Houston's taxi services!
Car Rental Houston
Car rentals are the perfect solution for those who crave independence and adaptability in their travels. In this section, we'll explore the vast array of options for car rental in Houston and introduce you to some popular car rental companies.
A World of Possibilities with Car Rental Options in Houston
Renting a car in Houston empowers you to traverse the city at your leisure and venture beyond the confines of public transportation. Whether you're seeking a compact vehicle for zipping around the town or a roomy SUV for an epic family road trip, numerous car rental Houston TX agencies offer a diverse selection of vehicles tailored to your needs.
Top Car Rental Companies in Houston: Your Guide to the Best
Houston boasts several renowned car rental companies, including:
Hertz Car Rental Houston

: A globally recognized brand offering a variety of vehicles and competitive prices.

Enterprise Houston Airport

: Renowned for its exceptional customer service, Enterprise provides a wide range of cars and convenient airport locations.

Avis Car Rental Houston

: Catering to leisure and business travelers, Avis is known for its diverse fleet and enticing loyalty program.

Thrifty Car Rental Houston TX

: A budget-conscious choice for those looking to save on car rentals without compromising quality.
With these fantastic options, you can confidently rent a car in Houston and embark on an unforgettable adventure through the city and beyond!
Luxury Car Service Houston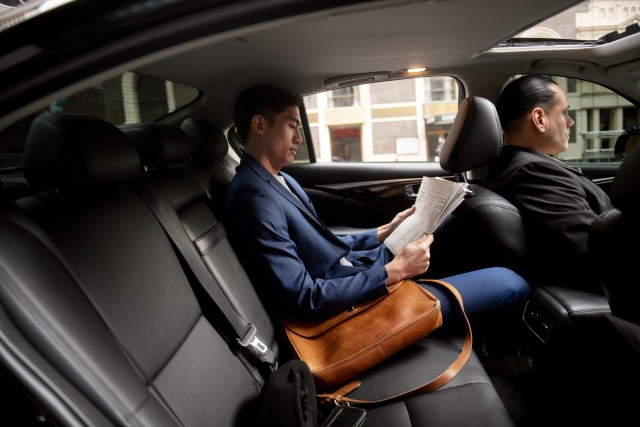 Luxury Car Service Houston: Experience the Ultimate in Comfort, Style, and Reliability
Luxury car services in Houston deliver a top-notch transportation experience that combines elegance, comfort, and dependability. In this section, let's delve into the world of luxury chauffeur services and explore the benefits of using a private car service.
An Opulent Ride with Luxury Chauffeur Services
Luxury chauffeur services offer a high-end transportation solution for various occasions, such as airport transfers, corporate events, weddings, and special celebrations. Boasting a fleet of luxurious vehicles like sedans, SUVs, and executive vans, these services are driven by professional and courteous chauffeurs.
Opting for a private car service ensures personalized attention and a tailored experience that caters to your specific needs and preferences. With their extensive knowledge of the city's routes and attractions, chauffeurs guarantee a smooth and pleasurable ride, even amidst Houston's hot weather and humidity.
The Perks of Choosing a Private Car Service
Selecting a private car rental over other transportation options comes with several advantages:
Comfort and Luxury

: High-quality vehicles with plush interiors, ample legroom, and modern amenities ensure a comfortable and lavish experience, regardless of Houston's humidity level.

Privacy

: Indulge in a discreet and confidential environment, perfect for conducting business or unwinding after a long flight.

Reliability

: Upscale chauffeur services emphasize timeliness and reliability, ensuring you reach your destination promptly and without any worries.

Personalized Service

: Chauffeurs cater to your specific requirements, offering assistance with luggage, route planning, and any special requests you may have.
So, whether you're looking to rent a private car or explore chauffeur services for your next Houston adventure, luxury chauffeur cars promise an unforgettable journey that's a cut above the rest. Embrace the luxury and enjoy the ride!
Luxury Limo Service Houston
For those seeking a truly memorable transportation experience, limousine services in Houston offer the perfect blend of elegance and sophistication. In this section, we'll delve into the world of Houston Limousine service providers and share tips for choosing the best limo service for your needs.
A Glimpse into the World of Limousine Services in Houston
Houston Limo Service providers boast diverse luxury vehicles, from stretch limousines and party buses to classic sedans and SUVs. These services cater to weddings, proms, corporate functions, and airport transfers.
When you book a private limo service in Houston, you can expect top-notch service with professional chauffeurs, well-maintained vehicles, and a commitment to customer satisfaction.
Tips for Choosing the Best Limo Service in Houston
To ensure a seamless experience with a limo service in Houston, keep these tips in mind:
Investigate and contrast various providers, concentrating on their standing, fleet caliber, and costs.

Ensure the firm is accredited, and insured and their drivers have been subjected to background screenings.

Discuss your requirements and tastes, including vehicle models, facilities, and unique demands.

Examine feedback and endorsements from former clients to better understand the service quality offered.
By following these guidelines, you'll be well on your way to selecting the best limo service in Houston for your unique needs. So, whether you're searching for a limo service in Houston, Texas, or exploring the broader world of limousine Houston options, prepare to enjoy a luxurious journey that will leave a lasting impression.
Houston Black Car Services
For those who appreciate a more subtle and professional transportation option, black car services in Houston provide an outstanding choice. In this section, we'll explore the world of Houston's black car service providers and discuss the benefits of using such a service.
A Closer Look at Black Car Services in Houston
Black car service Houston providers specialize in delivering a premium and discreet transportation experience. Their fleet typically comprises sleek black sedans and SUVs driven by professional and well-dressed chauffeurs.
Catering to travel needs such as airport transfers, corporate events, and private tours, black car services offer a reliable and efficient solution for those who value punctuality, comfort, and professionalism.
The Advantages of Using a Black Car Service
Choosing a black car service in Houston comes with several perks:
Professionalism

: Chauffeurs are experienced, well-groomed, and committed to exceptional service.

Reliability

: Black car services prioritize punctuality and dependability, ensuring a smooth and hassle-free journey.

Discretion

: The understated elegance of black vehicles offers a subtle yet sophisticated transportation option.

Versatility

: Black car services cater to various travel needs, from airport transfers to corporate events and city tours.
By assessing luxury transport alternatives in Houston, such as limousine and high-end car services, you can make a well-informed choice that aligns with your needs and inclinations. Whether you're searching for a town car service at Houston airport, an executive car service in Houston, or an elite town car service in Houston, black car services promise a refined and professional experience that exceeds expectations.
Conclusion: Lavish Ride - Secure Your Safety
Houston, a vibrant city with a varied populace, presents an array of ground transportation choices to accommodate the requirements of its inhabitants and guests. Numerous methods are available for traversing the city, ranging from public transit options like buses and light rail to private alternatives such as cabs, rideshares, and limos.
However, choosing the suitable transportation method that aligns with your needs and preferences is crucial. Factors like convenience, comfort, safety, and budget come into play. Lavish Ride, a premier Houston ground transportation provider, understands the importance of these considerations and offers a range of luxury vehicles and services to ensure a safe, comfortable, and stylish journey.
By selecting Lavish Ride as your preferred ground transportation provider in Houston, you secure your safety and experience unparalleled service from professional chauffeurs who prioritize punctuality and discretion. Lavish Ride's fleet of luxury vehicles is meticulously maintained and equipped with advanced safety features, offering peace of mind as you traverse the busy city streets.
In conclusion, selecting the appropriate transportation method in Houston is essential for a stress-free and enjoyable experience. Lavish Ride is our story of an exceptional choice, promising to deliver safety, comfort, and style tailored to your needs. Make your journey memorable by opting for Lavish Ride's top-notch services.