Expanding Your Horizons: A Guide to Long Distance Transportation Services in Houston
This guide is here to help you explore long-distance travel options in Houston, as well as explore the most remote destinations for Houstonians.
Welcome, fellow explorers, to a journey that transcends the ordinary and propels us into the realm of exciting possibilities! Are you ready to break free from the confines of routine and dive headfirst into the extraordinary tapestry that is Houston's extended landscapes? If the answer is a resounding "yes," then buckle up, because we're about to take you on a ride – both figuratively and literally.
In a city where the horizon is the starting point and adventure knows no bounds, we're here to unveil a guide that's tailor-made for the curious souls, the road trip aficionados, and the dreamers yearning to uncover the untrodden paths. Houston, with its eclectic blend of urban charm and sprawling expanses, isn't just a place; it's an invitation to explore beyond what you've known. So, if you've ever gazed out of your window and wondered about the stories that lie beyond the city's edge, this is your call to action.
Gone are the days of "Are we there yet?" and the monotony of confined travels. With an array of long-distance transportation services at your fingertips, your next escapade is limited only by your imagination. From rolling landscapes to hidden gems that whisper tales of the past, this guide is your key to unlocking the door to new experiences. So, fellow adventurers, fasten your seatbelts and prepare to navigate a sea of options that promise to redefine the way you traverse both distance and time. Let's embark on a journey that promises not just to expand horizons but to reshape them entirely.
Long Distance Travel Options
When it comes to exploring the vast expanse of Houston, there's no shortage of options to get you from point A to point B and beyond. From the tried-and-true to the innovative and luxurious, let's dive into the various long-distance travel choices that Houston offers.
Traveling in your own car
The freedom of the open road, the wind in your hair, and the thrill of driving through Houston's bustling streets! While traveling in your own car might seem like a convenient choice, it's important to consider the drawbacks that come with it. Endless traffic jams, limited parking spaces, and the ever-elusive quest for a prime spot are just a few of the challenges you might encounter. Not to mention, the wear and tear on your vehicle and the potential stress of navigating unfamiliar routes can take away from the joy of your journey.
For those who prefer the independence of driving without the commitment of car ownership, rental cars in Houston seems logical. However, availability can be hit or miss, especially during peak travel seasons. And let's not forget about the car rental in Houston prices, which can sometimes leave a dent in your wallet, taking away from your overall travel experience.
In the age of ride-hailing apps like Uber or Lyft, summoning a car at the touch of a button has become second nature. These services (Lyft Houston and Uber Houston) offer a convenient solution for getting around Houston without the hassle of driving. But while the benefits include not having to deal with parking or navigation, the costs can add up, especially for longer journeys.
Using public transportation
Public transportation is a cornerstone of urban travel, but public transportation in Houston comes with its own set of nuances. Long distance public transport options are limited, which can be a major setback when you're looking to explore beyond the city's immediate borders. And while Houston public transportation is an economical choice, the lack of privacy and the potential for overcrowding might not make it the most comfortable option for everyone.
Houston luxury car rental
Now, let's delve into the crème de la crème of travel experiences: luxury car rental Houston. Imagine being whisked away in a sophisticated vehicle driven by a professional chauffeur who knows Houston like the back of their hand. Luxury car service Houston offers a seamless blend of style, comfort, and convenience. Say goodbye to the stress of traffic and navigation – with a chauffeur at the wheel, you're free to relish the journey, arriving at your destination rejuvenated and ready to conquer.
In this city of boundless possibilities, luxury chauffeur services stand out for their impeccable vehicles, skilled drivers, and personalized attention. From business meetings to special events, or simply indulging in a taste of opulence, this mode of travel is the ultimate embodiment of "traveling in style." With reliability, exclusivity, and a touch of sophistication, luxury town car service in Houston redefines what it means to traverse the city's sprawling wonders.
Connecting Houston: Journeys to and from Various Cities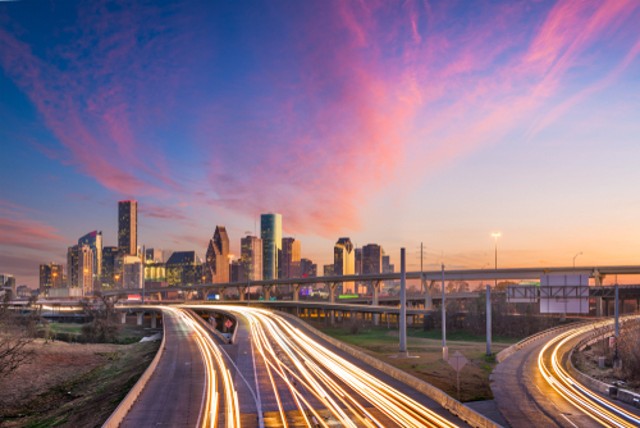 Houston is not just a destination in itself but also a gateway to the diverse landscapes of Texas. If you're craving the buzz of big cities or the tranquility of smaller towns, Houston's strategic location makes it an ideal starting point for exploring the Lone Star State.
Texas Long Distance cities
The following are some Texas long-distance cities:
Dallas to Houston distance: 239.1 miles
The bustling heart of North Texas, Dallas, welcomes you with its iconic skyline and a blend of modernity and Southern warmth. As one of the major cities in the region, Dallas offers a cultural melting pot of museums, attractions, and a thriving culinary scene. Traveling between Houston to Dallas unveils a dynamic journey that connects two of Texas' most influential hubs.
Distance from Austin to Houston: 162.2 miles
Austin, the capital of Texas, needs no introduction. A haven for music enthusiasts and tech innovators alike, Austin boasts a unique vibe that's difficult to replicate. From its legendary live music scene to the picturesque Lady Bird Lake, exploring Austin to Houston opens up a world of adventure.
Houston to San Antonio distance: 196.9 miles
Travel southwest from Houston, and you'll find yourself in San Antonio, a city steeped in history and culture. The iconic Alamo and the scenic River Walk set the stage for a journey that blends historical exploration with modern urban pleasures.
EL Paso to Houston distance: 746.5 miles
Nestled in the westernmost corner of Texas, El Paso stands as a gateway to both Texas and Mexico. This city, with its distinctive blend of cultures, offers a unique Tex-Mex experience. The scenic drive from Houston to El Paso spans landscapes that shift from urban sprawl to desert beauty.
Houston to Corpus Christi distance: 207.5 miles
Heading southeast from Houston takes you to Corpus Christi, a coastal haven that celebrates its maritime heritage. With beautiful beaches, water sports galore, and a relaxed atmosphere, this city is a perfect escape for those craving some saltwater adventure.
Houston to League City distance: 26.2 miles
Just a stone's throw from Houston, League City offers a suburban retreat without straying too far from the urban hustle. Its proximity to Houston makes it an accessible getaway, boasting a mix of nature parks, shopping districts, and family-friendly attractions.
Houston to Waco distance: 185.5 miles
Waco, with its newfound fame thanks to HGTV's "Fixer Upper," has transformed into a tourist magnet. The Magnolia Silos and a burgeoning food scene make Waco a charming detour for those exploring the routes between Houston and other Texan cities.
Houston to College Station distance: 95.0 miles
Home to the renowned Texas A&M University, College Station thrives with youthful energy and Aggie pride. Beyond the bustling campus, the city offers a blend of cultural, educational, and recreational opportunities. The George Bush Presidential Library and Museum is a must-visit, offering insights into the life of the 41st President of the United States. And when it's game day, the energy at Kyle Field is electric as Aggie football fans come together to cheer on their team.
Bryan to Houston distance: 100 miles
Adjacent to College Station, Bryan exudes a small-town ambiance while harboring hidden gems that are worth discovering. The Historic Downtown District is a testament to Bryan's rich history, with its antique shops, local eateries, and vibrant arts scene. The Queen Theatre is a local treasure, hosting live performances and events that bring the community together. And for nature enthusiasts, the Lake Bryan Recreation Area offers a serene escape with fishing, boating, and hiking opportunities. Bryan's quaint charm and sense of community make it an ideal retreat for those seeking a quieter side of Texas life.
Houston to Victoria distance: 125.2 miles
Southwest of Houston lies Victoria, a city that exudes small-town charm while offering a surprising variety of local attractions. From the lush Riverside Park to the Texas Zoo, Victoria presents a quaint yet captivating stop on your long-distance Texan journey.
Houston to Lufkin distance: 120.3 miles
Lufkin, surrounded by lush forests and a network of trails, invites outdoor enthusiasts to embrace nature. The Ellen Trout Zoo is a family-friendly attraction showcasing exotic animals and providing educational experiences. For those seeking tranquility, the Angelina National Forest offers opportunities for hiking, camping, and birdwatching. Lufkin's connection to the natural world provides a peaceful contrast to the hustle and bustle of the city.
Houston to Nacogdoches distance: 141.6 miles
As the oldest town in Texas, Nacogdoches exudes history and charm. The historic downtown area is a treasure trove of quaint shops, local eateries, and well-preserved architecture. The Sterne-Hoya House Museum and Library offer insights into the region's past, while the Ruby M. Mize Azalea Garden delights visitors with its vibrant floral displays. Nacogdoches is a portal to Texas' rich history, inviting travelers to step back in time while enjoying the comforts of the present.
Houston to Beaumont distance: 84.9 mi
Southeast of Houston, Beaumont's history as an industrial hub is harmoniously balanced by its natural beauty. From the Spindletop-Gladys City Boomtown Museum to the serene Village Creek State Park, Beaumont showcases the coexistence of progress and nature.
If you're in search of luxurious and comfortable transportation for long-distance travel from Beaumont to Houston, consider using luxury transportation services.

Houston to Laredo distance: 314.9 miles
South of San Antonio lies Laredo, a city that thrives as a cultural and economic bridge to Mexico. With its unique blend of Texan and Mexican influences, Laredo offers a distinctive flavor that's worth the journey from Houston.
Houston to Plano Distance: 256.7 miles
North of Dallas, Plano boasts a suburban oasis known for its well-maintained parks, vibrant arts scene, and family-friendly atmosphere. It's a perfect spot to unwind before or after diving into the hustle of larger Texas cities.
Houston to Fort Worth Distance: 262.0 miles
Fort Worth, often referred to as "Where the West Begins," embraces its cowboy heritage while embracing modernity. With the Stockyards National Historic District and a thriving cultural scene, Fort Worth offers a glimpse into Texas' past and present.
Houston to Temple Tx distance: 169.2 miles
Nestled between Austin and Waco, Temple is a city that harmonizes history and contemporary progress. From its historic downtown to the modern medical advancements it's known for, Temple is a city of contrasts waiting to be explored.
Houston to Amarillo distance: 599.4 miles
Venture northwest from Houston, and you'll find Amarillo, a city that embodies the spirit of the Texas Panhandle. With attractions like Cadillac Ranch and the stunning Palo Duro Canyon State Park, Amarillo promises a captivating detour from the usual routes.
You can use the black car service to travel from Amarillo to Houston if you want comfort and luxury.
Moving from Houston to Louisiana's major cities
If you're ready to venture from Houston to the captivating state of Louisiana, get ready for a road trip that's full of excitement and new experiences. Louisiana is known for its lively culture, delicious food, and unique cities. Let's take a closer look at some of the major cities you can explore on your journey.
Houston to Lafayette distance: 216.7 miles
Lafayette is a city that's all about having a good time. You'll be greeted with the sounds of lively music and the aroma of mouthwatering Cajun cuisine. From dancing to toe-tapping tunes to savoring spicy crawfish and gumbo, Lafayette is a celebration of Louisiana's vibrant spirit.
Houston to Baton Rouge distance: 268.8 miles
As the capital city of Louisiana, Baton Rouge has a mix of history and modern energy. You can visit the Louisiana State Capitol, where decisions are made, and explore the USS Kidd Veterans Museum to learn about the nation's naval history. With its riverside charm and cultural attractions, Baton Rouge offers a glimpse into Louisiana's past and present.
You can use the Limo service for a comfortable and luxurious travel from Baton Rouge to Houston.

Houston to New Orleans distance: 317.74 miles
New Orleans is a city that needs no introduction. From the lively beats of jazz music to the colorful celebrations of Mardi Gras, New Orleans is a whirlwind of fun and festivities. Don't miss the chance to stroll through the French Quarter, taste beignets at Café du Monde, and soak in the unique blend of cultures that make this city truly special druring your New Orleans to Houston visit.
Houston to Alexandria distance: 204 miles.
Step into the past in Alexandria, a city that's steeped in history. You can explore historic homes, visit the Alexandria Museum of Art, and even take a scenic boat ride on the Red River. For those who love history and charm, Alexandria offers a calm and inviting atmosphere.
Houston to Shreveport distance: 238.4 miles
Shreveport is a city of entertainment and adventure. From riverboat casinos to family-friendly attractions like the Sci-Port Discovery Center, there's something for everyone. And if you're a fan of movie history, the Shreveport Film Trail takes you through iconic film locations.
Houston to Lake Charles distance: 143.5 miles
Nestled by the lake, Lake Charles offers a mix of natural beauty and cultural richness. You can enjoy outdoor activities like fishing and boating, then explore the Creole Nature Trail All-American Road to witness the area's unique wildlife. And don't forget to experience the vibrant arts scene in the city.
As you journey from Houston to these major cities in Louisiana, you'll discover a tapestry of cultures, flavors, and attractions that make each city special. From the vibrant streets of New Orleans to the historical charm of Baton Rouge, Louisiana welcomes you with open arms and a whole lot of southern hospitality. So buckle up and get ready to explore the unique treasures that await you in this vibrant state!
Conclusion
In our journey through the bustling cityscape of Houston and the enchanting destinations it connects us to, we've uncovered a tapestry of travel options. From the bustling streets of Houston to the captivating cities of Louisiana, we've explored the choices that offer us access to new experiences and cherished memories.
The significance of a reliable long distance transportation system in Houston cannot be overstated – it's the bridge that links our desires to explore, whether we're locals seeking adventure or visitors embracing the unknown.
At Lavishride, we understand the importance of seamless travel experiences. That's why we're thrilled to offer private long-distance transportation services within the United States of America to and from Houston.
Whether you're embarking on a journey to Louisiana's vibrant cities or venturing elsewhere, Lavishride is your partner in making every mile memorable. Our commitment to comfort, professionalism, and reliability ensures that your travels are not just about reaching a destination but about enjoying every step of the way. As we bid adieu to the roads we've traversed today, remember that the world is your oyster, and Lavishride is here to make your travel dreams a reality.