Explore Houston Nightlife Vibrant
Discover the vibrant and diverse Houston nightlife scene in our guide. From bustling bars to clubs, explore the best places for Houston nightlife.
The city awakens with diverse nightlife offerings when the sun goes down in Houston. Iconic honky-tonks, pulsing EDM clubs, chill breweries, and hidden cocktail gems satisfy night owls in the Houston nightlife scene. Houston has it all, whether you seek an all-night dance party or a relaxed lounge.
Houstonians flock to hot nightlife events every weekend in prime areas like Downtown, Midtown, and Montrose. With so many venues clustered together, you can easily bounce from sipping cocktails to dancing on stage in one night. The options showcase Houston's unexpected nightlife diversity, from blues bars to buzzing patios to grungy rock venues next to rooftop lounges.
So if you're seeking things to do in downtown Houston after dark or want to experience the best clubs in Houston, get ready to explore. With an open mind, visitors can discover the eclectic watering holes and late-night vibes that make Houston nightlife world-class.
This guide will highlight the top after-hours destinations - from Texas honky-tonks to acclaimed mixology lounges - that light up Space City once the sun goes down.
Where to Eat and Drink
Houston's downtown and surrounding areas offer extensive restaurants, bars, pubs, and lounges open late to satisfy night owls' appetites. From casual pubs to upscale dining spots, these local favorites allow you to pair quality eats with drinks in lively atmospheres after hours.
Notsuoh
Notsuoh Bar in downtown Houston provides a one-of-a-kind offbeat dive bar experience. The iconic upside-down sign welcomes visitors to a quirky space filled with retro decor. With cheap drink specials, local bands, and DJs playing eclectic sets, Notsuoh Houston becomes a lively late-night hangout where Houstonians gather for casual drinks and conversation fueled by the artsy, anything-goes vibe.
Anvil Bar and Refuge
Cocktail aficionados flock to Anvil Bar and Refuge in Montrose for their creative twists on classic libations. Anvil Bar and Refuge menu reinvent time-honored drinks like Manhattans and Negronis using fresh, high-quality liquors and homemade syrups and ingredients. The relaxed, vintage setting of Anvil Bar and Refuge happy hour provides a laidback yet sophisticated spot to savor modern takes on old-fashioned sours and other expertly crafted cocktails.
The Nightingale Room
For a more polished night out, visit The Nightingale Room in downtown Houston nightlife near the House of Blues. The Nightingale Room's intimate interior exudes elegance with leather club chairs, intimate booths, and smooth jazz, setting a relaxed yet upscale mood. The extensive menu of this Continental Club Houston showcases creative craft cocktails, like lavender sage gimlets and muddled cucumber mojitos, along with curated wines and local craft beers fit for sophisticated palates.
Xochi
Travel to Oaxaca without leaving Houston at downtown's acclaimed Xochi. Chef Hugo Ortega prepares authentic Oaxacan flavors alongside handcrafted mezcal cocktails that provide tastes of genuine Mexican cuisine and spirit culture. Xochi's flavorful dishes pop with tradition and culinary art, from mouthwatering mole sauces to duck carnitas tacos. Meanwhile, the extensive list of tequilas and mezcals complement the iconic Oaxacan fare. Xochi Houston menu vibrant, modern ambiance makes it an energetic dinner spot and a lively destination for late-night drinks and cuisine.
10 Best Nightclubs in Houston to Dance the Night Away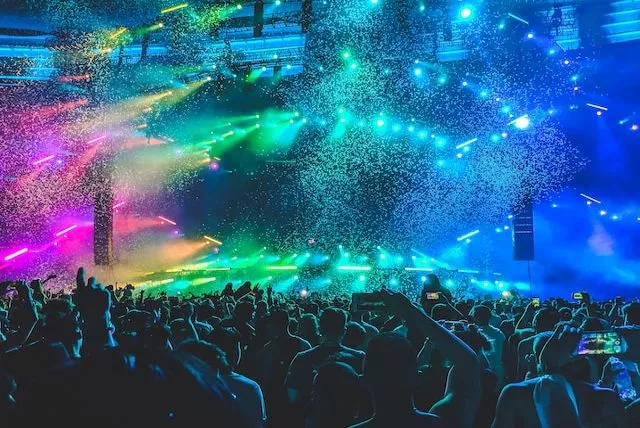 Regarding nightlife, Houston offers seemingly endless lively nightclubs and bars to drink, dance, and revel until the early morning hours. Here are 10 vibrant hot spots known for their pulsating dance floors, top DJs, and energetic crowds ready to party all night.
Where to Party at Night in Houston?
1. The Spot
With its prime downtown location spread over two floors, The Spot Bar gives Houston party-goers ample space to dance the night away. Resident DJs keep energy levels high by spinning hip-hop, EDM, reggaeton, and Latin pop hits to draw in the young crowds. Patrons flock to The Spot Lounge and Bar Houston for cheap drink specials and high-energy themed nights like Friday, Reggaeton Party, Hip Hop Wednesday, and EDM Saturdays. The lively atmosphere and diverse music selection of the Spot Club Houston - from Top 40 remixes to Latin beats - keep the dance floors packed on both floors well into the early morning.
2. The Address
Tucked away inside an upscale mansion in Memorial, The Address nightclub caters to Houston's trendy party crowd looking for an exclusive nightclub experience. As you enter the luxe interior, prepare for the state-of-the-art sound system pulsating with the latest hip hop, EDM, Latin, reggaeton, and Afrobeats hits.
The massive indoor LED-lit dance floor provides plenty of room to show off your best moves. Continue the party outdoors on the sprawling open-air patio with dazzling city views. For the true VIP treatment, opt for bottle service with your private lounge area to revel in luxury. With its opulent setting and diverse DJ lineup, The Address Club In Houston delivers a high-energy yet upscale nightclub experience.
3. BFE Rock Club
While BFE Rock Club is best known for hosting Houston's top rock, punk, and metal acts on its indoor stage, the venue also turns into a lively dance club late at night when the concerts wrap. Headbang to your favorite bands earlier in the evening, then go outside to the neon-lit courtyard, where you can dance under strings of lights as DJs take over the decks.
Local and guest DJs spin electronic dance tunes, indie remixes, and eclectic beats to keep patrons dancing well into the morning hours. With its concert hall vibe and outdoor dance party, BFE Rock Club Houston offers a uniquely Houston nightlife experience.
4. The Secret Group
After the comedy shows and concerts wrap up at The Secret Group Houston in EaDo, the alternative crowd heads over for the late-night dance parties. As the performers clear the stage, local DJs and producers take over with their laptops and turn the performance space into a pulsing dance floor.
Be prepared to groove all night as they spin dubstep, trap, hip-hop, house, and electronic dance tunes at The Secret Group. The vibrant dancing often spills out onto the street, with patrons finding their own spaces to bust a move outside the venue. So come ready to feel the beat drop as you dance into the early morning hours at one of Houston's top EDM clubs.
5. The Davenport
For an upscale club experience, go to The Davenport Houston in Midtown on Friday and Saturday nights. During the earlier evening, sip craft cocktails in the luxe interior lounge spaces with plush seating. As the night progresses, move the party up to the expansive open-air rooftop patio overlooking Midtown's skyline.
Resident and guest DJs amp up the energy, spinning Top 40, hip-hop, house, and EDM hits. With its chic ambiance and diverse music selection, The Clubhouse Davenport attracts dressed-up weekend party crowds dancing into the wee hours under strings of lights on the lively rooftop.
6. The Big Easy
For a taste of the Big Easy right here in Houston, head to The Big Easy Houston on the weekend. During earlier hours, indulge in New Orleans favorites like po' boys, jambalaya, and beignets on the sprawling patio. As the night progresses, the venue starts bumping with live brass band and jazz ensemble performances, recreating the eclectic sounds of Bourbon Street. Then DJs take over with funk, soul, blues, and zydeco dance hits that will get you moving on the patio dance floor. The Big Easy Near Houston is a lively nightlife staple with its NOLA vibe, stellar live music, and DJ dance parties.
7. Martini Bar and Cigar
For sophisticated revelry, visit Martini Bar and Cigar Bar, a hidden rooftop gem in the Galleria area. Enter the high rise to an elevator, whisking you to the top floor. Step out to panoramic city views and a swanky retro setting fit for Rat Pack socialites. Order a perfectly chilled martini or favorite liquor while puffing on a hand-rolled cigar. The luxe rooftop ambiance makes Martini Bar Houston and Cigar a favorite for young professionals and seasoned connoisseurs looking for an elevated night out.
8. Numbers
Numbers have been a Houston party institution in Montrose since opening in the 1980s. Walking in feels like stepping into a time warp, with disco balls spinning and decades of dance hits pulsing through the multi-room venue. Resident DJs keep the throwback vibes going strong, spinning disco, funk, 80s pop, and retro dance tunes that keep crowds dancing late into the night. This Night Club Houston provides an eclectic good time dancing to nostalgic beats, Numbers Night Club Houston delivers night after night.
9. Cle
For a lavish, Vegas-style club experience, head to Cle Club Houston in Midtown. From entry, the plush interior exudes luxury with VIP bottle service, delivering top-shelf liquor to your personal lounge space. Make your way to the large central dance floor surrounded by shimmering LED lights as DJs spin today's hottest EDM, hip hop, and Latin pop. The DJs build the energy throughout the night to keep patrons dancing into the early morning. With its upscale setting, VIP treatment, and pumping beats, Cle Club provides a premier late-night clubbing experience.
10. Barbarella
An artsy downtown favorite since opening in the 1990s, Barbarella Houston offers an alternative club experience every Friday and Saturday night. See trippy retro movies like Barbarella, the club's namesake, projected on the walls and low-lit booths. The diverse DJs build the energy on the spacious dance floor spinning 80s new wave, 90s pop, indie remixes, and all your favorite throwback hits. Barbarella attracts an eclectic crowd ready to dance with abandon until last call. It is the best place to dance in Houston. Its retro vibes and throwback tunes make it a beloved downtown dance clubbing institution.
With its mix of music genres, Houston offers seemingly endless vibrant nightlife options for dancing the night away. So hit up these pumping nightclubs and experience H-Town's lively late-night club scene.
Conclusion: Experience Houston Nightlife to the Fullest
As this guide has shown, Houston nightlife offers an incredibly diverse range of dining, drinking, music, and dancing options once the sun goes down. Iconic Texas honky-tonks, sophisticated cocktail lounges, buzzing patios, and pulsing dance clubs light up neighborhoods like Downtown, Midtown, Washington Avenue, and Montrose every Friday and Saturday night. With its sheer size, Houston delivers seemingly endless venues to eat, imbibe, listen, people watch, and dance the night away.
LavishRide Offers Transport Services to Help You Enjoy Houston Nightlife Safely
To help visitors and locals experience the breadth of Houston nightlife safely and easily, professional transport services like LavishRide offer convenient limo services and chauffeur services. Their experienced drivers can provide door-to-door pickup and delivery in their fleet of luxury vehicles to whisk you around Houston's top nightlife neighborhoods.
Whether you want to bar shop downtown or club shop in Midtown, their black limo car services ensure you avoid driving while intoxicated and parking hassles. You can relax and focus on enjoying Houston's vibrant food, drinks, music, and dancing, knowing LavishRide covers your transportation.
Discover Houston After Dark for Yourself
With its diversity of options, Houston nightlife offers something exciting for everyone once the sun sets - you just have to get out and experience it yourself! As this guide has shown, you can find any vibe you desire, from chic cocktail lounges to boot-scooting honky-tonks to pulsing EDM dance clubs in Houston's prime nightlife districts.
So, now that you know Houston's range of after-dark activities, it's time to explore them for yourself. Round up friends and discover your new favorite watering hole or late-night eatery. Check event calendars to catch live music that matches your tastes. And dress to impress for a night of clubbing and dancing at Houston's bumping dance floors and bars. With an open-minded approach, a rideshare service like LavishRide, and this guide's recommendations, you will have an unforgettable night out in H-Town.