LR Travelling Tips # V | For International Travelers after Arriving at their Destination Airport
Get expert tips for international travel arrivals. Make your journey stress-free with these helpful tips.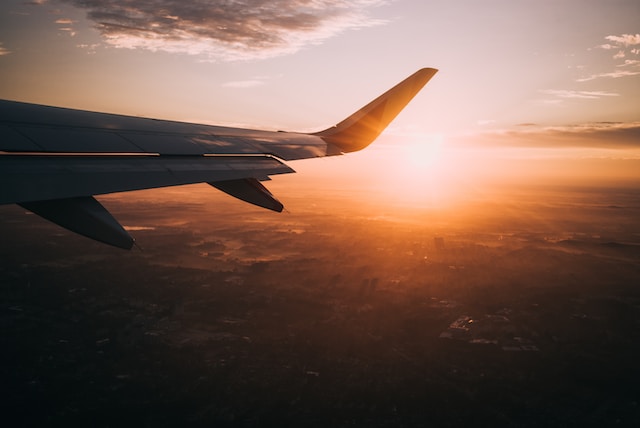 Traveling itself is an exhilarating experience, but the sentiments and excitement of international travel trump all other adventures by far. The anticipation of experiencing a foreign land and thoughts of exploring the native culture, arts, sights, and recreations certainly cause a dopamine rush. Air travel experience certainly embarks travelers on the thrilling journey of visiting a new land and creating life-long memories. Arriving at the destination airport is certainly a moment of relief but your journey doesn't end there, it's the start of an adventurous expedition.
International travel is a bit different from any local or domestic travel, usually, international flights are long and challenging for travelers. After arriving at the destination airport, travelers still need to go through airport protocols which can be pretty stressful. Travelers' preparedness for international travel will help them to speed up the airport procedure. In this article, we will share valuable tips for international flights and international travel safety tips for air travelers so they can always be prepared for the next step. Here are a few traveling internationally tips for arriving at the destination airport:
On the Airport
After the landing, when you leave the plane there are a few procedures that you must adhere to first. These next protocols are:
Completing immigration at the airport
Going for luggage pick up
Procedure for lost luggage
Navigating customs and immigration airport counters
Let us explain all these protocols in detail:
Navigating Immigration officer
When you leave the plane it's essential to check all your belongings and travel documents because you will need the travel paper for the next step which is airport immigration. For smooth international airport immigration check, here are a few recommendations for travelers:
Be prepared with necessary documents like a passport, visa, and customs declaration. A passport is essential for immigration officer stamps.
To navigate the airport immigration officer counter, pay attention to the airport signage and instructions. You can also ask the airport crew for directions in case you are not able to navigate the officer.
Commonly, there are customs lines for travelers, so stay patient and respectful during the immigration process and wait for your turn.
Pick up your Bags
After you get your immigration stamp, the next step is to navigate the baggage claim area to collect your luggage. Here are a few tips for travelers regarding this step:
After navigating the baggage area, pick up your bags from the airport baggage conveyor belt.
If your bag doesn't appear on the baggage belt, stay patient and wait for a while as it can take some time.
Don't panic if you lose your bag, just go to the relevant office and inform them of your situation. Share the baggage tag with them and provide all the necessary details so they can track the luggage.
Navigating Customs
When you get the bags, the airport customs process is next for international travelers. Here are a few suggestions to pass through the customs:
Prepare all the necessary documents like passport and customs declaration for the customs officer.
Generally, customs officers verify your immigration status and check all the travel documents.
Occasionally, officers might inspect your luggage for safety measures, and try to stay as calm as can during the airport customs check.
Currency Exchange and Banking
When you land in another country, it is opined to have some of the native currency for any usage. If you don't possess any local currency, you can easily find money exchange centers at the airport. For currency exchange and banking at destination airports, here are a few tips:
Always exchange currency at reputable sources to get the best money exchange rate.
Generally, the airport exchange rate is much lower than what credit card companies offer. Credit cards are the preferred option for purchasing in foreign countries.
Always carry a mix of cash and cards (debit and credit cards) in another country for flexible use.
Airport Transfer and Transportation
When you get out of the airport, the next step is the transportation to your accommodation or final destination. The airport experience can be hectic, so travelers usually want to reach their destination as quickly as they can. For this step here are a few suggestions:
If you have already booked the private transportation services, find your chauffeur and head to your accommodation.
It is highly recommended that all travelers book airport transfers ahead of time, so they don't have to wait for airport shuttles after long flights and airport procedures.
Some travel aficionados book limousine services to pick them up from the airport, it is the perfect option to start a thrilling journey in a new country with style.
If you have not made a reservation for private transportation, go to the airport information desk or airport gate and check all the available options.
Before leaving the airport for accommodation, keep important information (addresses, contact number) handy, and check all your belongings particularly your passport, travel documents, wallet, cell phone, and bags.
Accommodation Check-In
After arriving at the accommodation, the next step for travelers is hotel check-in. Here are a few recommendations:
Generally, travelers book their rooms or suites at the hotel ahead of time to avoid any distress. Try to arrive at the hotel check-in time, to speed up the checking-in procedure.
Ask questions about hotel policies and rules, and inquire about the hotel facilities and amenities.
After checking in to your room, safeguard your important documents and valuables.
Communication
Communication is crucial when you are traveling internationally, to update your friends and family back home. Here are a few tips for international travelers regarding communication and roaming services:
If your international data roaming service is not activated, try to purchase a local SIM card for communication purposes.
Download essential travel apps (maps, translation, and transportation).
Familiarize yourself with local emergency numbers like police emergency, rescue service, and ambulance services.
Health and Safety
While exploring new destinations and experiencing thrilling adventures, it is very easy to neglect the health and safety factors. International travelers must take all the health and travel safety precautions. LavishRide recommends:
Stay hydrated and rest to combat jet lag, it should not be taken lightly. Travelers can take jet lag solutions to deal with it properly.
Be cautious with local food and water, and it's suggested to be picky for meal selection.
Familiarize yourself with local safety and health guidelines, to enjoy the tour thoroughly.
LavishRide Tips for Travelers with Family (children or elderly)
The idea of international travel with children is fascinating as it will create ever-lasting memories among the family and strengthen the bond. However, air travel with kids always presents a few challenges that need to be addressed properly. Also, check out the travel tips for seniors to ensure the amusement of elderly people in the group. Here are a few LavishRide tips for travelers with family:
Keep an eye on your dependents at all times and at all stages.
Make sure you prepare your own dependents' bag.
Make sure you take the necessary support (medications, infant formula) with you while traveling.
Make sure each family number has your phone number with them.
Local Transportation
While visiting another country, the knowledge of local public transportation is essential to get around the city. Here are a few tips for international travelers:
Explore transportation options like public transport, taxes, and rideshares.
Familiarize yourself with local traffic laws, rules, and norms.
Keep transportation contact information handy.
You can hire local private chauffeur services to roam around the city.
Emergency Preparedness
Emergency preparedness is essential for international travelers to combat distressing events. LavishRide advises all international travelers to:
Know the location of the nearest consulate and familiarize the embassy phone number.
Share your travel itinerary with a trusted person back home.
Carry essential contact and medical info for any emergency.
Exploration and Adventure
Generally, the primary objective of traveling internationally is the exploration and adventure of the destination. After combating jet lag, adventure enthusiasts start to check out the local recreational activities. Here are a few suggestions for what you should do:
Always plan activities and excursions to explore the area.
Seek recommendations from locals and fellow travelers regarding sightseeing and excursions.
Keep a good balance between planned and spontaneous ideas of recreation.
Responsible Tourism
Visiting a new country is a thrilling experience, all the recreational activities and excursions offer great adventure. But at the same time, travelers should practice sustainable or responsible tourism to conserve and preserve the natural environment and local culture of the destination. Here are a few tips for practicing sustainable tourism:
Respect the environment and local communities.
Applies proper waste disposal to help maintain a clean atmosphere.
Support local businesses and artisans, and promote cultural awareness.
Conclusion
International travel intends to provide fascinating experiences along with cultural exploration, adventures, and self-satisfaction. The airport experience is an immense part of any thrilling journey, and a smooth transition upon arrival at the destination airport sets the perfect mood for vacations. Navigating the airport effectively, taking all the safety measures, securing the travel documents, and booking the airport transfer service will enhance your airport experience. In Houston, travelers or locals can enjoy matchless transportation and luxury chauffeur service for city tours or airport transfers with LavishRide.
LavishRide offers premium black car services in town, with utmost luxury, comfort, and style. Extensive fleets (luxury Sedans, SUVs, Sprinter Van) and well-trained chauffeurs provide immaculate service with complimentary amenities to ensure an exceptional experience for travelers. LavishRide features 24/7 customer support, a user-friendly online booking system, impeccable punctuality, and luxury transportation service. Need a city tour or airport transfer? Book all-exclusive chauffeur drive services with LavishRide. LavishRide-Your partner in exploring the world.
These LavishRide tips will help you to make the most out of your journey. Share your exciting traveling journey with us, and if you have any other tips for travelers, please don't hesitate to inform LavishRide. We will be happy to add it to our blog post and offer more benefits to as many people as possible.