LR Travelling Tips # III | Departure Airport Procedures Tips
Get ready for your next adventure with our expert tips for travelers at departure airports. From packing to security, we've got you covered.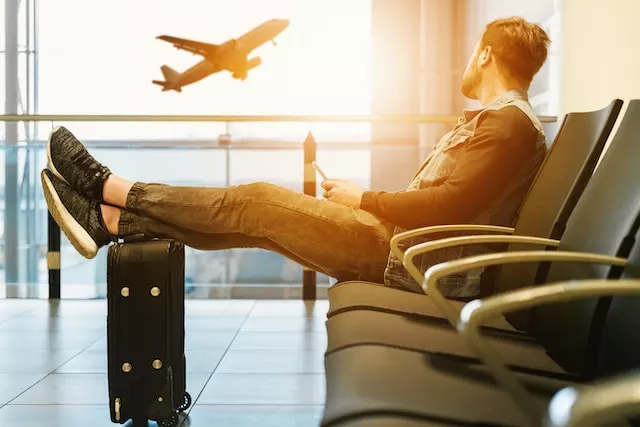 Departing the home for the airport is the start of an adventurous journey, at that time exciting emotions of anticipation pump up adrenaline. Despite the joy and exhilaration of going on to trip, the airport travel experience can be a bit overwhelming sometimes. Stress factor is always attached to airport travel, so it demands the travelers' preparations and attentiveness to pass through it smoothly. Taking the flight to the destination city is all fun, but the long queues, security checks, and screening process can be pretty nerve-wracking. With good preparation, travel tips, a smart approach, and valuable airport tips the whole air travel experience can be smooth.
In this article, we will explore travel safety tips to ensure an enhanced airport experience and an incredible start to the journey. We also share helpful tips for international travelers particularly those who are flying out of the country for the first time. Here are our tips for flying from the departing airport hassle-free and effectively.
Heading to the Airport Phase
After your pre-flight preparations, the next step is to head for the airport. Here are a few suggestions to make this process easier:
Do the final check and carry your valid identification, passport, and other travel document numbers.

Make sure that you have a mobile boarding pass or electronic boarding pass to get through the process swiftly.

Always come prepared for airport security check and keep in mind to wear something comfortable as you will have to take off your shoes, belt, and accessories at airport security screening.

The best Tips for Travelers is "arriving at the airport ahead of time" at least 3 hours before the flight.
Arriving at the Airport
After arriving at the airport in advance, you should:
Always prioritize the important process, and stay careful while using airport facilities.

Always pay attention to the airport layout and signage for the airport boarding gate.

Make sure you navigate to the airport boarding counter for a boarding pass.
Check-in Luggage
You should take advantage of the online check-in luggage service, it saves a lot of your time. You can just drop the checked luggage at the baggage counter and get through this process quickly but always pay attention to the Check-in luggage size. Online checking-in also allows you to choose your seat and meal preference.
TSA Security Check
After check-in at the terminal, you will go through an airport security check or TSA security. In this step, the TSA security check personnel will put you through screening and other security regulations to ensure the safety of the airport, staff, travelers, and aircraft. Explosive fireworks, box cutters, knives, razors, and all other sharp metals are not permitted in the airport.
Immigration Officer Stamp
For international travelers, the next step after security screening is to get the immigration officer's passport stamp. This inked visa stamp in the passport is proof of entering or exiting the country, and it also marks the date of entry or exit. This stamp is very crucial to get out or get in any country, so take this step very seriously to avoid any trouble.
Navigating the Airport
Navigating the airport is the next step after getting an immigration stamp, this part is not that difficult as all the stressful process is done already. For navigating the airport use these tips:
Check your available time before boarding to determine your pace and next move.

Be attentive to the airport signs to know the layout of the terminal and understand your route.

The next step is to find a getaway address by reading the airport signage.

If you have some time left, explore the all available airport amenities for adventure.
Budgeting and Currency
There are currency exchange stores accessible at the airport for travelers' luxury so that they can exchange currency for the destination country before departing. For budgeting and currency exchanges at the airport, here are a few tips for you:
Research the currency exchange rates to get an idea, and pick the exchange store that offers you the best rate, in this way, you can save some money.

Credit cards generally offer better exchange rates than airport currency stands or ATM machines. Credit cards are commonly recommended for travelers to use at international airports.

We advise you to carry both cash and cards before leaving the country to avoid any discomfort.
Food and Dining Options
If you have time before boarding, it is quite adventurous to explore the coffee shops or fast food restaurants in airports. Normally, airports have comprehensive food outlets for travelers to relish light bites and coffee before long flights. To check the food and dining options at the airport, here are a few suggestions:
Research the best airport food options to get a delicious meal or drink.

The option of packing snacks is accessible for travelers, you can get TSA-approved snacks from the airport to enjoy on the flight.

Always check on your dietary restrictions and allergies before getting any snacks, you can pack allergy-free snacks in a clear Ziploc bag from home.
Entertainment and Comfort
If you follow our tips, you will pass through the security check and other regulations quickly then you will have time before boarding. At this time, you can explore a few things to entertain yourself or make yourself comfortable before getting on the flight. Here are a few recommendations:
You can bring entertainment devices to amuse yourself like a smartphone, laptop, cards, books, mini-games, and other TSA-approved devices.

Make sure that you wear comfortable dress shoes and comfortable airport outfits to enjoy the whole journey calmly.

If you are tired and the flight is delayed you can find the relaxation area to get some rest.
Airport Lounges
Airport lounges offer luxurious options for spending quality time at the airport, but airport lounges are not accessible to the general public. You need to buy a priority pass, day pass, or membership to enter the best airport lounges, or you can also enroll yourself in airport lounge programs. These lounges feature complimentary food and drinks, a business center, a spa, a sleeping room, ample seating, and other additional amenities.
Duty-Free
Travelers have access to the duty-free shop at the airport terminals, commonly people shop there to buy gifts like duty-free perfume, chocolates, and candy bars. You can also get travel necessities from the duty free store to entertain yourself on the flight.
Airport Shopping
Airport shopping is another exciting option for spending time at the terminal, there are extensive airport shops available for travelers. Travel aficionados commonly devote some time to airport shopping to read a book and buy gifts, souvenirs, and magazines. It is recommended to check the airport shopping center to get travel necessities.
Check the comfort or entertainment items you may need while boarding the plane, and if you missing any, buy them from airport stores.
Other Airport Amenities
In your free time, always explore the other airport amenities for adventure. Usually, the airport features free Wi-Fi, local art exhibits, airport massage and manicure services, hydration areas, television services, spa airport service, and a food court.
Boarding Tips
The boarding process should be taken seriously, it usually takes some time because of long lines of travelers rushing to get in the aircraft. To make the boarding process smoother, here are a few suggestions:
You must arrive at the gate of your plane to avoid any trouble.

Make sure you get to the boarding counter ahead of time.

Follow all the boarding procedures and regulations.

For priority boarding, always get the priority boarding pass from the check-in counter to avoid the lines. This pass will allow you to enter the airplane first along with your carry-on hassle-free.
Security and safety
Before or after boarding the airplane, it is recommended to take all necessary security and airport safety measures. Here are a few suggestions for what to do:
You should always pay attention to time, and check your watch frequently to ensure that you are on track.

Keep an eye on your belongings like carry-on, wallet, and smartphone.

Protect your personal information and keep your travel documents and passport safe.

Take all the health and safety precautions.

Follow the airport security rules while dealing with emergencies.
Conclusion
Navigating airport security, regulations, and the whole procedure can be adventurous and exciting with the right guidance. Arriving early at the airport, paying attention to airport regulations, possessing all the travel documents, and researching the security and departing procedure will help you with a hassle-free airport experience. Traveling assures all kinds of adventures and exuberant moments that will allow you to create unforgettable festive memories. By following these tips, you can embark on your thrilling journey with a head start.
If you are from Houston or visiting Houston, enjoy the premium black service in town for luxury airport transportation with LavishRide. Well-trained chauffeurs of Lavish Ride provide extravagant and comfortable service with premium amenities like complimentary 60-minute waiting time and help with luggage. Extensive fleets which include luxury Sedans, Business-Class SUVs, and Executive Sprinter Van offer unparalleled service in style. Lavish Ride features 24/7 customer support service, a user-friendly online booking system, a flight tracking service for airport transfers, and a private chauffeur service. Need an airport transfer? Book the luxury vehicle for your family with LavishRide. Lavish Ride-Your favorite travel partner
Share your travel experience with LavishRide, as usual, if you have any advice for travelers regarding this stage that was not mentioned in the article, do not hesitate to tell us and we will be happy to add it to bring the benefit to as many people as possible. We wish you a safe and pleasant journey ahead.