LR Travelling Tips # IX | Luxurious Private Jet Travel
Discover essential tips for private jet travelers to ensure a seamless and luxurious journey. Maximize comfort and convenience with expert advice.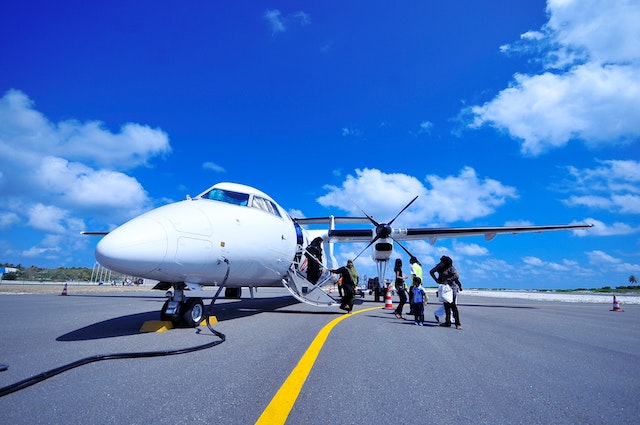 In recent times, there has been a significant shift of travelers from flying in commercial airlines to flying in private charter jets. It is certain that private jet travel is the embodiment of exclusiveness and luxury, and commercial airlines just can't match the comfort, elegance, and convenience of private jet service. There is a huge misconception of people that only vastly wealthy individuals access private jet rental services, it might have been true in the past but not in this modern day. Private jet travel is more accessible and feasible than anyone can imagine, now businessmen book private jet for business travel, and families get the services of private chartered jets to go on holidays.
According to IBISWorld, there are 14,662 charter flight businesses in the U.S. in 2023, and the U.S. Charter flight industry has grown by 0.9% since last year. The private jet charter services market was valued at USD 12.97 billion in 2023, and it is projected to grow even further in the next few years. All the aviation stats highlight the popularity of private air travel in recent years, as people are tired of stressful commercial flight experiences. Private jets possess the ability to take travelers to various destinations, unlike commercial aircraft which can only land at big airports.
In this article, we will share some valuable tips for private jet travelers to revel in the premium air travel experience completely. These suggestions will allow travelers to fly on private jets hassle-free with well-preparedness and confidence. Here are the LavishRide tips for private jet travelers:
Pre-Flight Preparation
Before booking any private jet service, careful planning and preparation are needed for clear-cut traveling decisions. Private charted travel certainly offers captivating adventure, but pre-flight preparations and decisions are crucial to enjoying this enthralling journey. Here are some suggestions regarding pre-flight preparation for travelers.
Choosing the right private jet service
To rejoice in the private jet experience, it is essential to choose the right chartered jet service. There are dozens of companies in the United States that offer private aviation services, and choosing the right one might be difficult for travelers. Here are a few tips for choosing the right private jet services.
To book private jet service, consider all the given factors of the service provider like passenger capacity, range requirements, comfort, amenities, baggage capacity, and cost. Choose the service that caters to your specific needs.

Always research the safety records of private jet services, and pay attention to all the reviews before selecting the company. You can't enjoy the exclusivity of private air travel on a jet with bad safety records.
Booking your private jet
After researching and selecting the private jet service provider, booking the service is not very difficult. But at the time of booking, travelers should pay attention to different factors to acquire the desired services. Here are a few suggestions for booking the private jet:
During reservation, communicate clearly about the timing to avoid being delayed or late. This will allow you to make travel plans accordingly.

Always discuss special requests during the reservation process, so it would not be an issue later on.
Packing Efficiently
After booking the private jet services, travelers are instructed to complete pre-flight preparations like packing. Passengers must pack efficiently for private jet flights, and not fill their luggage with unnecessary items. For packing efficiently, here are a few factors travelers should consider:
Luggage restrictions and options
Private jets are usually smaller than commercial aircraft, and all private jets are in various sizes. So the luggage restrictions are different for private jets, here are a few tips for passengers regarding this matter:
Research the cabin luggage size and weight restrictions of the selected service provider. Commonly, private jet companies allow carry-ons up to 25 pounds, and it can be different depending upon the selected aircraft.

Study the company policies regarding checked baggage size and weight limit before packing. Generally, private jet companies allow checked bags up to 50 pounds, and the weight limit can be different on various aircraft.
Special items to consider
Private jet companies allow travelers to bring many special items that are not allowed on commercial flights. Passengers can bring food or drinks on board along with other items, but explosive substances, hazardous materials, weapons, and illegal drugs are not allowed. Other special items that are allowed are:
Private jets allow people to bring sporting equipment with them.

Unlike commercial airlines, private jets allow people to travel with their pets or service animals. Generally, travelers have to comply with the Federal Aviation Administration regulations regarding pets.
Dress code and onboard essentials
Private jet travel has no set dress code or special attire, it's totally up to the travelers how they dress. However, here are a few suggestions regarding dress code and travel essentials:
Wear appropriate attire for private air travel that can be comfortable for you during the flight. Smart casual attires are usually considered the best travel outfits for planes.

Pack travel essentials to keep you comfortable and entertained during the flight.
Security and Customs
For private jet travel, there are a few security and customs protocols that travelers should adhere to. Usually, the customs and immigration regulation process is much faster for private jet travelers which is why people are shifting to flying private. Here are a few key points for travelers regarding this:
Arrival at the private terminal
Traveling on private jets doesn't require passengers to arrive at the airport 3 or 4 hours before the flight, but it is prudent to come early to the private terminal to complete the required airport protocols. These protocols are:
The private terminal has expedited security checks for passengers, which is faster because the identities of passengers are thoroughly verified beforehand.

Expedited security checks allow privacy and discretion to passengers, as they will not go through the normal screening process with commercial airline passengers.
Customs and Immigration
There are separate customs stations provided for private aviation in the U.S., which allow travelers to clear the customs in like 15 minutes. For a fast customs and immigration process, here are a few key factors:
Usually, private jet services offer pre-clearance customs options for faster airport procedures.

The customs preclearance will allow travelers from international flights to bypass TSA long lines and proceed directly to the connecting flight or final destination.
Onboard Experience
The pivotal thing that makes private jet travel exceptional is its premium onboard experience. Travelers not only enjoy the exclusivity of private jets but also relish the onboard amenities and services. Your outstanding onboard experience with private jets consists of these key factors:
Customizing your inflight experience
Passengers of private jet services can customize their inflight experience by using the onboard amenities. Some of these niceties are:
Travelers can choose their meal preferences and relish the delicious onboard food and drinks.

In private jets, travelers are provided with entertainment options like streaming movies or shows on onboard TV monitors, reading books, playing mobile video games, and listening to music.
Cabin crew and services
Private jets offer a luxurious traveling experience, and the cabin crew and all onboard cabin services are meant to satisfy the passengers. For exploring these services, here are a few suggestions:
In private jets, expectations for service are very premium, so relish the exclusivity of private air travel.

To explore all the amenities, and communicate with cabin crew effectively.
Staying Connected
Private aviation companies offer connection services to keep their passengers entertained. Jets feature:
Availability of inflight wifi

Inflight communication services
Privacy and Security
The distinguished feature of flying with private aviation companies is that they offer complete privacy and security to their clients. Usually, celebrities and athletes take advantage of private jet services for privacy. Private jet companies' benefits are:
Maintaining Discretion
Flying in private jets will help people to maintain discretion by:
Avoiding unwanted attention

Confidentiality agreements that will secure their private and personal information secure.
Safety Measures:
Chartered aviation companies take all the necessary safety measures to ensure a smooth flight. Private jet features:
Complete safety protocols

Secure luggage handling
Post-Flight Considerations
Travelers must show an understanding of post-flight considerations to end the exciting journey on a very good note. For smooth post-flight services, the following is the key factor:
Exiting the aircraft
For exiting the aircraft effectively, here are a few suggestions for travelers:
Make sure the smooth disembarkation process (getting off the plane) with your belongings.

For international travelers, private jet customs follow a similar process as compared to commercial flights but it only takes 15 minutes. Travelers need to present their passports and visas for clearance, and they must declare the items they bring into the country.
Conclusion
The luxury and convenience of private jet travel ensure a riveting journey and contented air travel experience. By pre-flight preparedness, understanding the customs and immigration regulations, and by taking the safety measures travelers can enhance their premium private jet experience. Private aviation offers responsible and considerate travel habits to travelers and save them from experiencing stressful commercial airline journey. For arriving early to a private airport, LavishRide offers premium black car service in Houston with a style that matches the exclusivity level of private jet services. Extensive fleets feature luxury Sedans, SUVs, and Sprinter Van for timely airport transfers.
LavishRide promises an unparalleled experience with its luxury car chauffeur service and complimentary amenities. A user-friendly online booking system, 24/7 customer support, and commitment to customer privacy and safety are something that make LavishRide the best private car service in Houston. Need an airport transfer? Book your favorite luxury vehicle with LavishRide. LavishRide: Secure Your Safety.
Share your thoughts on LavishRide tips and also tell us about your enthralling traveling experience. We wish you a safe and pleasant trip.
If you want to share more tips that are not mentioned above, we would love to hear them and add them to our list. We aspire to contribute our services to make your journey special and stress-free.